Answer
Another option for ED is the Medicated Urethral System for Erections (MUSE). MUSE involves the formulation of alprostadil (PGE1) into a small intraurethral suppository that can be inserted into the urethra (see the image below). In one study, the agent was effective in 65% of a selected group of men. [102] Widespread application of MUSE has been limited by the system's cost and its inability to provide rigid erections consistently.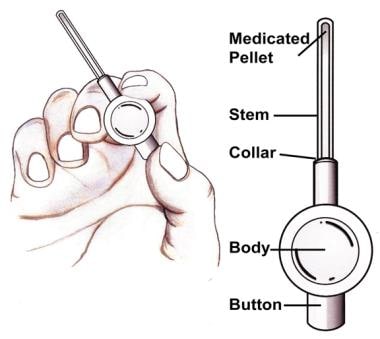 The Medicated Urethral System for Erections (MUSE) is a small suppository placed into the urethra with this device.
MUSE may be effective in men who have vascular disease or diabetes or have undergone prostate surgery. Intraurethral alprostadil is a useful agent for men who do not want to use self-injections or for men in whom oral medications have failed. It has been successfully used together with sildenafil in cases in which each agent alone failed.
Few adverse effects occur. The most common is a painful erection and urethral burning, which occurs in fewer than 10% of patients.
A topical gel formulation of alprostadil for treatment of ED has been developed. [103] However, it has not been approved for use by the FDA.
---
Did this answer your question?
Additional feedback? (Optional)
Thank you for your feedback!