Answer
Nocturnal penile tumescence testing involves placing several bands around the penis, connected to a device such as the Rigiscan monitor, and instructing the patient to wear the assembly for 2 or 3 successive nights. If an erection occurs, which is expected during rapid eye movement sleep, its force and duration are measured on a graph (see the image below). Inadequate or absent nocturnal erections suggest organic dysfunction, whereas a normal result indicates a high likelihood of a psychogenic etiology.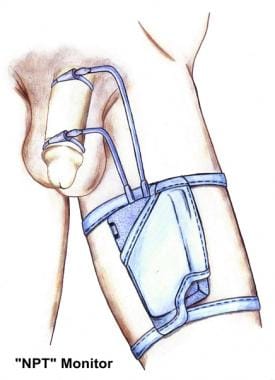 This penile tumescence monitor is placed at the base and near the corona of the penis. It is connected to a monitor that records a continuous graph depicting the force and duration of erections that occur during sleep. The monitor is strapped to the leg. The nocturnal penile tumescence test is conducted on several nights to obtain an accurate indication of erections that normally occur during the alpha phase of sleep.
Nocturnal penile tumescence testing was once frequently performed; it was thought to be useful in distinguishing psychogenic from organic impotence. Currently, other devices are available that provide similar information. Some are also able to measure rigidity (resistance to mild compression) and tumescence (size). Nocturnal penile tumescence testing is rarely used in current practice, but it can be helpful in situations where the diagnosis is in doubt.
---
Did this answer your question?
Additional feedback? (Optional)
Thank you for your feedback!