Answer
Inflammatory mucosal changes of edema and pseudopolyp formation have been termed the herald patch (see images below). [51]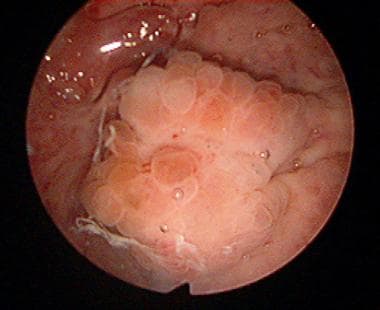 After a bladder wash-out, the fistula appears as a raised, edematous, sessile lesion in the bladder. The air bubble is observed at the top of the photo, and some remnant mucus threads are adherent at the bottom.
The edema surrounding the fistula often extends for a considerable distance around the bladder wall. A cobblestone appearance is typical when chronic inflammation is present.
Cystoscopy is used to initially diagnose fistulae in 30%-50% of cases. Cystoscopy findings are used to confirm enterovesical fistulae in 60%-75% of patients.
The presence of a localized area of edema and congestion is a typical finding in the early stages of a fistula. Bullous edema and mucosal papillomatous hyperplasia surround a fistula as it matures. Often, the fistula opening is not identified. Fecal material or mucus may be observed in the bladder. [51] An attempt may be made to catheterize the tract or inject contrast retrograde to confirm the presence of fistula using plain radiography or fluoroscopy. Lesions are most commonly observed on the dome of the bladder. A lesion on the left dome of the bladder is typically diverticular. A lesion on the right posterior wall or the right dome of the bladder is more likely associated with Crohn ileitis or an appendicovesical fistula.
---
Did this answer your question?
Additional feedback? (Optional)
Thank you for your feedback!