Answer
Cystoscopy can be a helpful component of the diagnostic evaluation. Prior to the advancement of radiological diagnostic techniques, cystoscopy was considered to be the most reliable method of diagnosis. [33] The findings of this procedure can suggest the presence of a fistula, and cystoscopy can be used to evaluate for a possible malignancy.
Cystoscopy can be useful in paring down the list of differential diagnoses, and it enables the physician to obtain a biopsy of the fistula to check for malignancy. Localized erythema, papillary/bullous mucosal changes, and, occasionally, material oozing through an area are present in 80%-90% of diagnosed cases (see image below).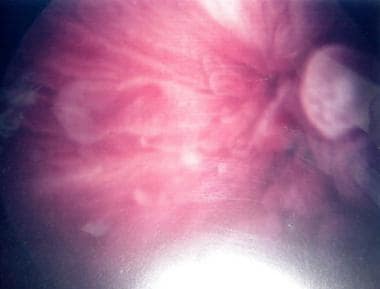 An endoscopic view of colovesical fistula (upper right). Note the prominent edema and erythema characteristic of the fistula (ie, herald patch). Occasionally, a whitish discharge with the consistency of toothpaste can be observed emanating from the orifice. The presentation of a vesicoenteric fistula includes the presence of air, fecal material, and polymicrobial recurrent urinary tract infection.
---
Did this answer your question?
Additional feedback? (Optional)
Thank you for your feedback!