Answer
CT scanning of the abdomen and pelvis is the most sensitive imaging test for detecting a colovesical fistula, and CT scanning should be included as part of the initial evaluation of suspected colovesical fistulae. [36] CT scanning can demonstrate small amounts of air or contrast material in the bladder, localized thickening of the bladder wall, or an extraluminal gas-containing mass adjacent to the bladder. Three-dimensional reconstruction is useful when traditional axial and coronal images fail to demonstrate the anatomy in sufficient detail. [37] The images below show a series of CT scans.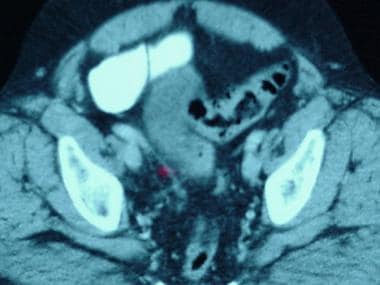 CT scan showing the adherence of the sigmoid colon to the lateral edge of the bladder.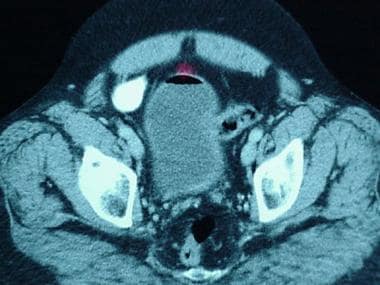 A lower cut of the CT scan from the related image. Note the sigmoid colon in direct proximity to the fistula and the air in the bladder.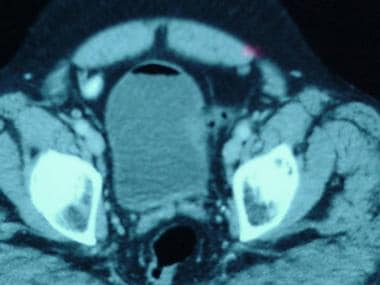 A CT scan one cut further inferiorly from the related images, showing the typical air pattern in the bladder and more obvious inflammatory changes at the site of the vesicoenteric fistula.
Preoperative CT scanning in nine consecutive patients with colovesical fistulae secondary to diverticulitis was accurately used to predict the presence and location of fistulae in 8 patients and led to suspicion in 1 patient. [38]
In another study, colovesical fistulae identified preoperatively with CT scanning in 12 patients were surgically confirmed in 11 of those patients. CT scanning was also used to exclude fistulae in 20 patients with uncomplicated acute diverticulitis. [39]
Avoiding oral contrast ingestion and having the patient evacuate rectally administered barium can enhance the value of CT scanning in the process of fistula identification. [40] CT scanning also plays an important role in preoperative surgical planning by demonstrating the extent and degree of pericolonic inflammation.
In another study, 3-dimensional CT scanning provided improved imaging of the anatomic relationships. Additionally, multidetector row CT urography is useful in identifying urinary tract abnormalities, including fistulae. [41] More sophisticated CT imaging modalities, such as CT colonoscopy, have been reported in the literature, but no clinical trials demonstrating a clinical benefit to this modality over traditional CT scanning have been published to date. [42]
---
Did this answer your question?
Additional feedback? (Optional)
Thank you for your feedback!