Answer
A patent processus vaginalis is found in 80-90% of term male infants at birth. This frequency rate steadily decreases until age 2 years, at which point it appears to plateau at approximately 25-40%. Indeed, autopsy series of men have identified a frequency rate of 20% of the processus vaginalis remaining patent until late in life. However, clinically apparent scrotal hydroceles are evident in only 6% of term males beyond the newborn period. Certain conditions, such as breech presentation, gestational progestin use, and low birth weight, have been associated with an increased risk of hydroceles. The incidence of hydroceles in men is less well known. See the image below.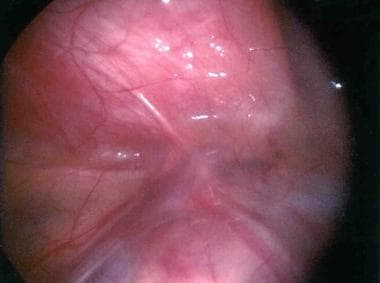 Hydrocele. Small patent processus vaginalis (indicated by the bubbles) as viewed laparoscopically.
---
Did this answer your question?
Additional feedback? (Optional)
Thank you for your feedback!