Answer
A hydrocele is a fluid collection within the tunica vaginalis of the scrotum or along the spermatic cord. [1] These fluid collections may represent persistent developmental connections along the spermatic cord or an imbalance of fluid production versus absorption. In rare cases, similar fluid collections can develop in females along the canal of Nuck. [2, 3, 4] See the image below.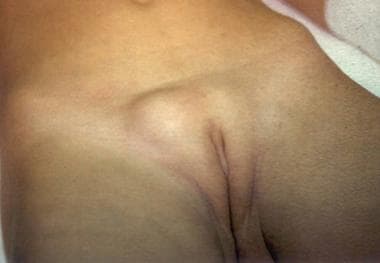 Young girl with groin bulge, which, at surgery, was a hydrocele of along the canal of Nuck.
By themselves, hydroceles pose little risk of clinical consequence. However, the potential for more than fluid to appear within developmental connections between the abdominal cavity and the scrotum or the association with underlying scrotal pathology requires that hydroceles be evaluated with due prudence. See the image below.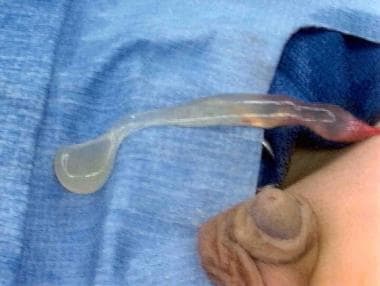 Hydrocele that extended retrograde into the abdominal compartment.
In endemic tropical regions, scrotal hydrocele may occur in males of any age as a result of filariasis, especially from Wuchereria bancrofti infection. [5] See Filarial Hydrocele.
For additional information on hydroceles, see Hydrocele in Emergency Medicine and Pediatric Hydrocele and Hernia Surgery.
---
Did this answer your question?
Additional feedback? (Optional)
Thank you for your feedback!