Answer
The undescended testis, when palpable, is usually found in the superficial inguinal pouch or in the inguinal canal under the external oblique aponeurosis. Care must be taken during dissection to avoid the ilioinguinal nerve near the spermatic cord.
After dissection of the cremasteric fibers off the cord, the patent processus vaginalis, or hernia sac, may be located on the anteromedial surface of the cord. The intra-abdominal view of the anatomy is best seen in the image below. The vas deferens can be seen exiting the internal inguinal ring and crossing the median umbilical ligament. The testicular vessels (ie, spermatic artery) can be seen entering the internal ring from its origin off the aorta near the renal hilum.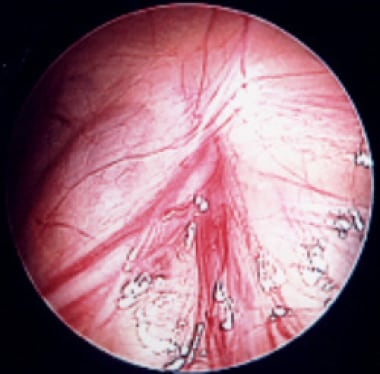 Laparoscopic view of normal vas deferens and testicular vessels entering a closed internal inguinal ring.
---
Did this answer your question?
Additional feedback? (Optional)
Thank you for your feedback!