Answer
The American Urological Association (AUA) has developed rigorous clinical practice guidelines for BPH. [1] The AUA guidelines were based on the 1994 evidence-based guidelines for the diagnosis and treatment of BPH originally created under the auspices of the United States Department of Health and Human Services Agency for Health Care Policy and Research. [9] The AUA updated its guidelines in 2006 and 2010, and reviewed and confirmed their validity in 2014. [1]
The AUA 2010 guideline update lowered the age of the Index Patient from age 50 years or older to age 45 years or older. Two algorithms were published: the algorithm for diagnosis and basic management of LUTS in the Approach section above, and an algorithm for detailed management of bothersome LUTS that persists after basic management, shown below. [1]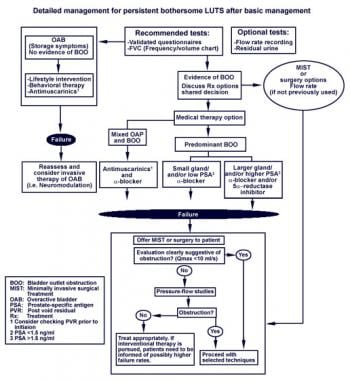 Benign prostatic hyperplasia (BPH) diagnosis and treatment algorithm.
These panels have established the following categories to classify diagnostic tests and studies. A recommended test is one that should be performed on every patient, whereas an optional test is of proven value in selected patients.
---
Did this answer your question?
Additional feedback? (Optional)
Thank you for your feedback!