Answer
Distal shunt in the form of a transglanular-to-corpus cavernosal scalpel or needle-core biopsy (Ebbehoj or Winter technique) is the first reasonable approach for refractory cases (see image below). A unilateral shunt is often effective. Bilateral shunts are used only if necessary (usually apparent after 10 min).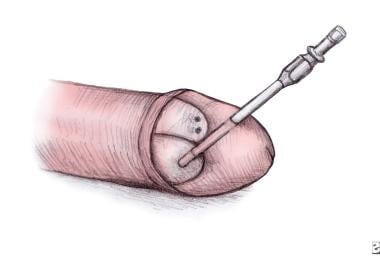 Priapism. Winter shunt placed by biopsy needle, usually under local anesthetic.
The El-Ghorab procedure is a more aggressive open surgical cavernosal shunt and is indicated if the Winter shunt fails.
Proximal shunt surgery (eg, Quackel shunts) are cavernosal-spongiosum shunts (unilateral or bilateral) and are performed via a perineal approach (see image below). Such shunts are rarely effective if a more distal shunt (eg, El-Ghorab procedure) has already failed, because thrombosis of the corpora is usually already present. [27]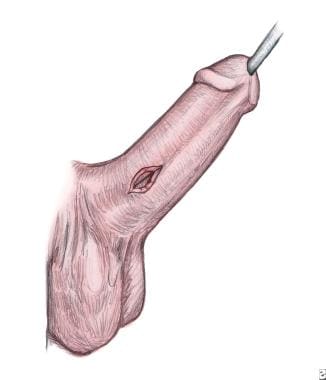 Priapism. Proximal cavernosal-spongiosum shunt (Quackel shunt) surgically connects the proximal corpora cavernosa to the corpora spongiosum.
A Grayhack shunt is a cavernosal-saphenous vein shunt (rarely necessary or indicated; see image below).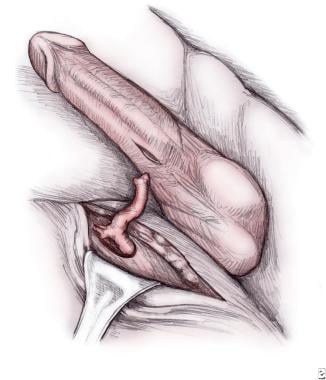 Priapism. Proximal cavernosal-saphenous shunt (Grayhack shunt) surgically connects the proximal corpora cavernosum to the saphenous vein.
Reed-Maldonado propose an algorithm for the treatment of ischemic priapism that uses duration of priapism as decision points. For patients with priapism for less than 24 hours in whom aspiration/injection fails, and in those who present more than 24 hours after onset, these authors recommend the use of anticoagulation with shunting. Anticoagulation consists of aspirin, 325 mg orally, and heparin, 5000 units subcutaneously, given preoperatively. Postoperatively, anticoagulation with aspirin (81 mg/day orally) and clopidogrel (75 mg/day orally) is continued for 5 days. [28]
Prolonged low-flow priapism results in a variable degree of cavernosal fibrosis and a subsequent loss of penile length. The delayed insertion of a penile prosthesis can be difficult, with high complication rates. Immediate insertion of a penile prosthesis in patients with prolonged low-flow priapism is simple and maintains penile length. This may be offered to patients at initial presentation, as the complication rate is low and the subsequent outcome excellent. [29, 30, 31]
Fuchs et al describe successful use of corporal decompression through a penoscrotal approach for treatment of ischemic priapism that has failed to respond to distal shunt procedures. In this technique, the initial incision and dissection are identical to those used for implantation of a penoscrotal inflatable penile prosthesis; an approximately 2-cm incision is then made in the corpora, corporal decompression is performed using a pediatric Yankauer suction tip, and the sludged blood is expressed with firm manual pressure. [32]
In a case series, this approach was effective in 6 of 6 patients with prolonged ischemic priapism that was refractory to multiple prior treatments, including at least 1 distal shunt. All patients required no additional intervention and all noted immediate relief of pain postoperatively. In contrast, in an earlier series of similar cases treated with placement of a malleable penile prosthesis, 3 of the 8 patients required a total of 8 revision surgeries during a median follow-up of 41.5 months. [32]
.
---
Did this answer your question?
Additional feedback? (Optional)
Thank you for your feedback!