Answer
At most institutions that offer this examination, CT scanning has replaced IVP, the historic criterion standard, for the assessment of urinary tract stone disease, especially for acute renal colic. CT scans are readily available in most hospitals and can be performed and read in just a few minutes. Numerous studies have demonstrated that CT has a sensitivity of 95-100% and superior specificity and accuracy when compared with IVP. [30]
A renal colic study consists of a noncontrast or unenhanced CT scan of the abdomen and pelvis, including very narrow cuts taken through the kidneys and bladder areas, where symptomatic stones are most likely to be encountered.
Technically, a relatively high pitch of more than 1.5 with thin collimation of 2-3 mm is generally considered a good compromise between imaging quality and radiation dosage. No rectal, oral, or IV contrast is used, because contrast material obscures any calcium-containing stones; both the stone and the contrast material would appear bright on the scans. Optimally, the patient's bladder is filled, which facilitates viewing the ureterovesical junction (see the image below).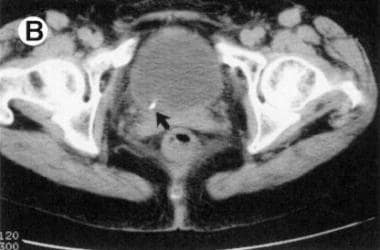 Noncontrast helical CT scan of the abdomen demonstrating a stone at the right ureterovesical junction.
In equivocal cases in which an indeterminate calcification is found along the course of the ureter or an abrupt change in ureteral caliber is found without a conclusively identified stone, an overlapping retrospective series can be performed to better evaluate this specific area and eliminate any sampling error.
An abdominal flat plate or KUB radiograph is sometimes automatically included in a renal colic study, depending on the institution and the preferences of the medical staff.
---
Did this answer your question?
Additional feedback? (Optional)
Thank you for your feedback!