Answer
Before the advent of helical CT, IVP, also known as intravenous urography (IVU), was the test of choice in diagnosing ureterolithiasis. IVP is widely available and fairly inexpensive but less sensitive than noncontrast helical CT. CT scanning with delayed contrast series and thin slices has reduced the need for IVP in the evaluation of problematic ureteral stones. European Association of Urology guidelines recommend non-contrast CT to confirm the diagnosis in patients with acute flank pain, as it is superior to IVP. [1]
The main advantage of IVP is the clear outline of the entire urinary system that it provides, making visualization of even mild hydronephrosis relatively easy. IVP is helpful in identifying the specific problematic stone among numerous pelvic calcifications, as well as in demonstrating renal function and establishing that the other kidney is functional. These determinations are particularly helpful if the degree of hydronephrosis is mild and the noncontrast CT scan findings are not definitive. IVP can also show nonopaque stones as filling defects.
Disadvantages include the need for IV contrast material, which may provoke an allergic response or renal failure, and the need for multiple delayed films, which can take up to 6 hours. Obtaining the IVP is also a relative labor-intensive process. In addition, IVP may fail to reveal alternative pathology if a stone is not discovered, delaying the final diagnosis. False-negative results usually occur with stones located at the ureterovesical junction.
The dose of IV contrast is usually about 1 mL/kg. Bolus administration is usually recommended for renal colic evaluations because it allows for a nephrogram-effect phase film. This normally occurs within the first minute after bolus contrast injection and cannot be obtained with slow-drip infusion.
Acute ureteral obstruction causes an intense persistent finding on nephrograms. This may take several hours or more to fully visualize, which necessarily delays completion of the study. The so-called delayed nephrogram on IVP is one of the hallmark signs of acute urinary tract obstruction. The relative delay in penetration of IV contrast passing through an obstructed kidney elicits this sign. The kidney appears to develop a whitish color, and contrast appearance within the collecting system of the affected renal unit is significantly delayed.
KUB radiographs are obtained immediately before contrast administration and at 1, 5, 10, and 15 minutes afterwards or until visible contrast material fills both ureters (see the image below). Prone films are sometimes obtained to enhance visualization of the ureters. When the bladder is full of contrast and the distal ureters contain sufficient contrast for visualization, the patient is asked to void; then a postvoid film is taken. Sometimes, oblique views are needed when bone or bowel contents overlie the area of interest.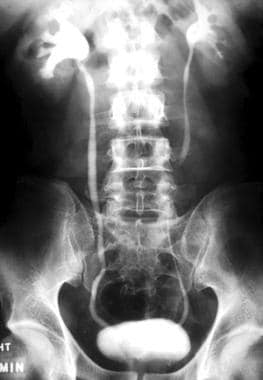 Intravenous pyelogram (IVP) demonstrating dilation of the right renal collecting system and right ureter consistent with right ureterovesical stone.
Look for direct visualization of stone within the ureter, unilateral ureteral dilation, delayed appearance of the nephrogram phase, lack of normal peristalsis pattern of the ureter, or perirenal contrast extravasation. Degree of obstruction is graded based on delay in appearance of the nephrogram.
Typically, an IVP positive for a ureteral stone is one that shows a delayed nephrogram effect and columnization. The ureter is peristaltic, so the entire ureter is not usually visualized on a single film except when an obstruction is present, such as from a stone. Even without observing any specific stone, the presence of a nephrogram effect in one kidney with normal function of the opposite kidney is highly suggestive, but not diagnostic, of ureteral obstruction.
Extravasation of contrast around the collecting system may be a sign of a ruptured fornix, while pyelolymphatic backflow indicates that contrast has entered into the renal lymphatic drainage system. Both are considered signs of a more severe ureteric obstruction.
However, no published study has indicated that the clinical course, treatment outcome, or residual renal damage is altered in any way in these patients. In fact, this information about the radiological assessment of the relative severity of the obstruction rarely affects clinical treatment decisions, except perhaps in persons with solitary kidneys.
---
Did this answer your question?
Additional feedback? (Optional)
Thank you for your feedback!