Answer
Answer
Hand burns assume a high priority from the onset of care. [47] During the first 24-48 hours, adequate blood flow must be ensured. Regularly monitor consistency, temperature, and the presence of pulsatile flow (detectable using Doppler studies of the digital pulp). If blood flow is questionable, perform escharotomy or fasciotomy.
Splint hands in a position of function, ie, the metatarsophalangeal joints at 70-90°, interphalangeal joints in extension, first web space open, and wrist at 20° of extension. Elevate the hands to minimize edema, and have the patient perform range-of-motion exercises with a therapist twice daily. Deep dermal and full-thickness burns should undergo early excision and sheet autograft closure. Perform hand therapy throughout the healing period, stopping only in the few days immediately after grafting. If this is not performed, suboptimal long-term function results (see the image below).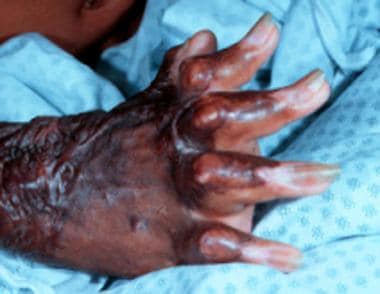 Initial evaluation and management of the burn patient. If hand positioning and therapy are ignored while overlying burns heal, poor long-term function may result.
---
Did this answer your question?
Additional feedback? (Optional)
Thank you for your feedback!