Answer
For single-lung transplantation (SLT), the native lung with the poorest pulmonary function according to the preoperative quantitative perfusion scan is excised. If both the lungs have similar function, the right side is preferred because surgical exposure and instituting cardiopulmonary bypass (CPB), if required, is easier.
The lung is exposed via a posterolateral thoracotomy through the fifth intercostal space. The ipsilateral groin is included in the surgical field in the event that cannulation of the heart via the chest is not possible and femoral vessels are required for partial CPB. Following excision of the native lung, the donor lung is wrapped in sponges soaked with cold crystalloid solution and placed into the hemithorax.
The bronchial anastomosis is performed first. See the image below.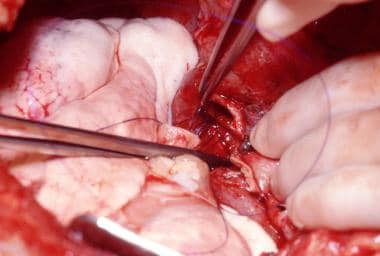 Bronchial anastomosis. Posterior wall closure is performed with a continuous suture.
Although several techniques have been described, the length of both the donor and recipient bronchi is minimized in order to preserve collateral blood supply and to achieve some degree of anastomotic overlap. The smaller bronchus is telescoped into the larger bronchus with either a technique of interrupted sutures or a combination of running sutures on the membranous layer and interrupted sutures externally. The anastomosis is covered by local peribronchial tissue, pedicle flaps of thymic tissue, or pericardial fat. The pulmonary artery anastomosis of the donor and recipient vessels requires careful approximation to avoid kinking. For the left atrial anastomosis, the confluence of the recipient pulmonary veins is incised to create a left atrial cuff. See the images below.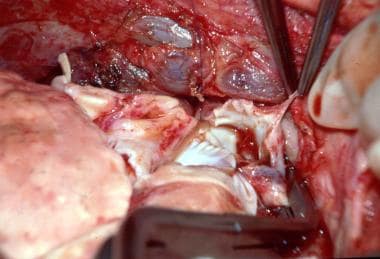 Right atrial anastomosis. Continuous anastomosis with the common pulmonary vein joined to the atrium.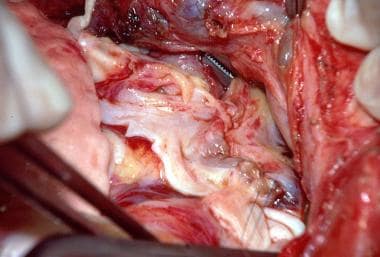 Completed atrial anastomosis.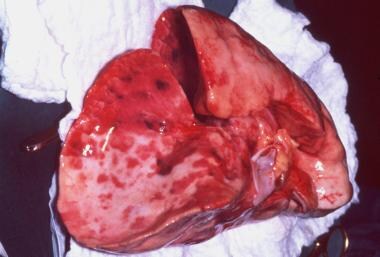 Donor lung showing hilar surface.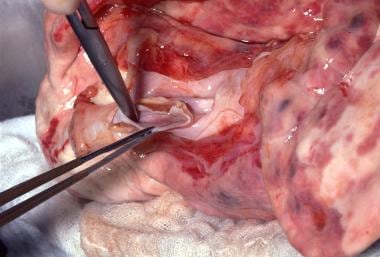 The clamps are exposing the donor vein.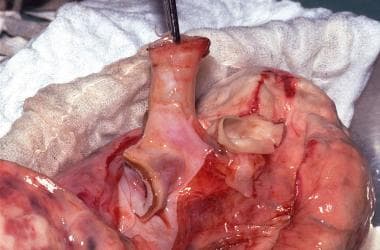 Donor bronchus, artery to the right and vein to the left.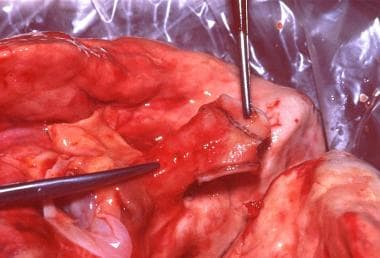 Right donor bronchus.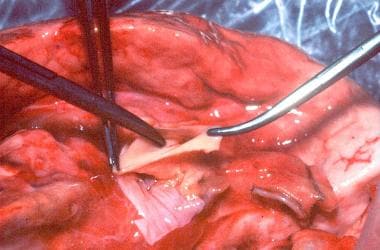 A close-up shot of the donor vein.
After completion of these anastomoses, the lung is reinflated gently; the perfusion is reestablished after evacuating air via the left atrial suture line. Following resumption of ventilation to the donor lung, the suture lines are secured. Hemostasis is obtained, 2 chest tubes are placed, and the chest is closed in a standard fashion. Following reintubation with a single lumen tube, flexible bronchoscopy is performed to inspect the bronchial anastomosis and clear the airway of blood or residual secretions.
---
Did this answer your question?
Additional feedback? (Optional)
Thank you for your feedback!