Answer
Computed tomography (CT) with contrast has become the most widely used diagnostic tool. Contrast CT scans rapidly and precisely evaluate the thoracic and abdominal aorta to determine the location and extent of the aneurysm and the relation of the aneurysm to major branch vessels and surrounding structures. They can help accurately determine the size of the aneurysm and assesses dissection, mural thrombus, intramural hematoma, free rupture, and contained rupture with hematoma. (See the image below.)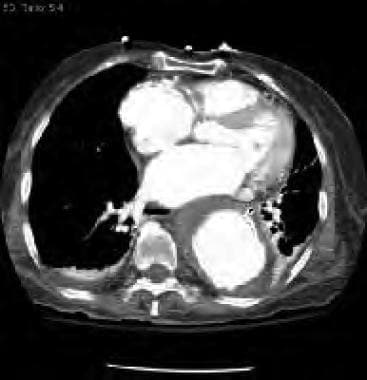 Computed tomography (CT) scan depicting descending thoracic aortic aneurysm with mural thrombus at level of left atrium.
Sagittal, coronary, and axial images may be obtained with three-dimensional (3D) reconstruction. Stent graft planning for endovascular descending thoracic aneurysm repairs requires fine-cut images from the neck through the pelvis to the level of the femoral heads. The takeoff of the arch vessels is critical to determine the adequacy of the proximal landing zone, as is assessing the patency of the vertebral arteries, if the left subclavian artery should be covered by the stent graft. Assessment of the common femoral artery access is essential to determine the feasibility of large-bore sheath access. A spiral CT scan with 1-mm cuts and 3D reconstruction with the ability to make centerline measurements is crucial to stent graft planning.
Aortic size on imaging is widely used to guide clinical decision making in regards to patients who have thoracic aortic aneurysms (TAAs). It has been found that the double-oblique plane yields improved agreement with planimetry and differed from the axial plane in proportion to aortic geometric obliquity; therefore, the double-oblique measurement is recommended. [39]
CT angiography (CTA) may create multiplanar reconstructions and cines. This requires nephrotoxic contrast and radiation, but the procedure is noninvasive.
---
Did this answer your question?
Additional feedback? (Optional)
Thank you for your feedback!