Answer
Mediastinal emphysema appears as a thin line of radiolucency that outlines the cardiac silhouette, as well as thin, lucent, vertically oriented streaks of air within the mediastinum (see the image below). The aorta and other posterior mediastinal structures are highlighted, and a well-defined lucency around the right pulmonary artery ("ring around the artery" sign) may be seen.
Air most easily is detected retrosternally on the lateral chest radiograph. An AP chest radiograph may not depict the finding in 50% of cases. An expiratory radiograph may help detect small apical pneumothoraces. Unlike air in a pneumothorax or pneumopericardium, the air remains fixed in pneumomediastinum and does not rise to the highest point.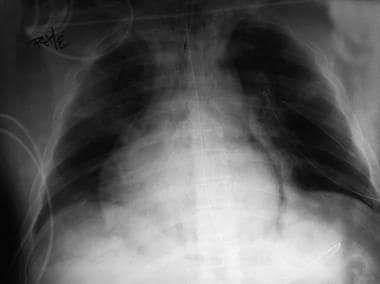 This chest radiograph shows pneumomediastinum (radiolucency noted around the left heart border) in this patient who had a respiratory and circulatory arrest in the emergency department after experiencing multiple episodes of vomiting and a rigid abdomen. The patient was taken immediately to the operating room, where a large rupture of the esophagus was repaired.
---
Did this answer your question?
Additional feedback? (Optional)
Thank you for your feedback!