Answer
Imaging studies should not delay the diagnosis and treatment of tension pneumothorax; this condition is a medical emergency. When considering radiography, utilizing a risk-benefit analysis has been suggested, in which the time taken to obtain the radiograph is balanced against the expected clinical course, with decompression preceding chest radiography in ventilated patients who are prone to rapid decompensation.
In a very select subset of patients, it may be preferable to radiologically confirm and localize tension pneumothorax before subjecting the patient to potential morbidities arising from decompression. The subset of patients are those who are awake, stable, and not in any distress in whom an immediate chest film can be obtained, with a continuously accompanying clinician ready to perform urgent decompression should the need arise.
In the rare case that a chest radiograph is obtained safely, findings can include ipsilateral lung collapse at the hilum, increased thoracic volume, trachea and mediastinum deviation to the contralateral side, widened intercostal spaces on the affected side, heart border ipsilateral flattening. With a left hemithorax, the left hemidiaphragm may be depressed, but the liver prevents this occurrence on the right side. (See the images below.)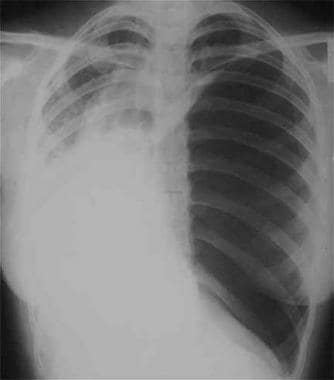 Radiograph of a patient with a large spontaneous tension pneumothorax.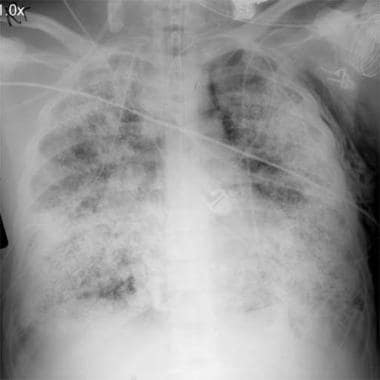 Radiograph of a new left-sided pneumothorax in a patient on mechanical ventilation, requiring high inflation pressures.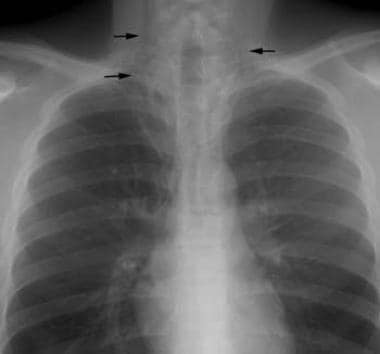 Pneumomediastinum from barotrauma may result in tension pneumothorax and obstructive shock.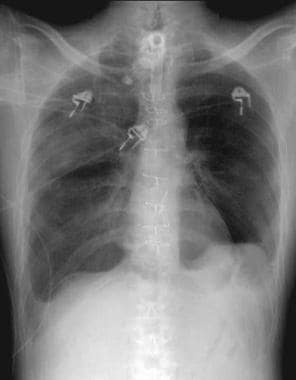 Radiograph of a patient in the intensive care unit (ICU) who developed pneumopericardium as a manifestation of barotrauma.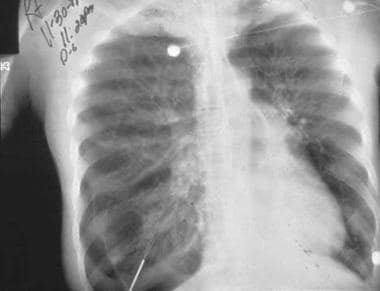 Radiograph of an older man who was admitted to the intensive care unit (ICU) postoperatively. Note the right-sided pneumothorax induced by the incorrectly positioned small-bowel feeding tube in the right-sided bronchial tree. Marked depression of the right hemidiaphragm is noted, and mediastinal shift is to the left side, suggestive of tension pneumothorax. The endotracheal tube is in a good position.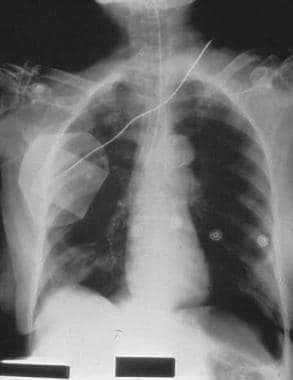 Radiograph depicting right main stem intubation that resulted in left-sided tension pneumothorax, right mediastinal shift, deep sulcus sign, and subpulmonic pneumothorax.
Although the initial chest radiograph may show no evidence of pneumothorax, one must consider the possibility of delayed traumatic pneumothorax developing in any penetrating chest wound. Stable patients without pneumothorax on initial films can be observed with serial chest radiographs at 3 hours after injury to rule this out. [37]
---
Did this answer your question?
Additional feedback? (Optional)
Thank you for your feedback!