Answer
Tension pneumothorax is a clinical diagnosis that now is more readily recognized because of improvements in emergency medical services (EMS) and the widespread application of educational programs such as Advanced Trauma Life Support (ATLS) and Fundamental Critical Care Support (FCCS).
Although laboratory and imaging studies help determine a diagnosis, as discussed earlier, tension pneumothorax primarily is a clinical diagnosis based on patient presentation. Suspicion of tension pneumothorax, especially in late stages, mandates immediate treatment and does not require potentially prolonged diagnostic studies (see the image below).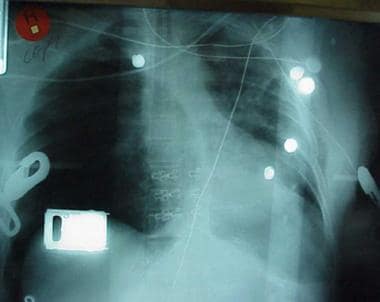 This chest radiograph has 2 abnormalities: (1) tension pneumothorax and (2) potentially life-saving intervention delayed while waiting for x-ray results. Tension pneumothorax is a clinical diagnosis requiring emergent needle decompression, and therapy should never be delayed for x-ray confirmation.
Go to Radiologic Diagnosis of Pneumothorax for complete information on this topic.
---
Did this answer your question?
Additional feedback? (Optional)
Thank you for your feedback!