Answer
A tension pneumothorax is a life-threatening condition that develops when air is trapped in the pleural cavity under positive pressure, displacing mediastinal structures and compromising cardiopulmonary function. Prompt recognition of this condition is life saving, both outside the hospital and in a modern ICU. Because tension pneumothorax occurs infrequently and has a potentially devastating outcome, a high index of suspicion and knowledge of basic emergency thoracic decompression procedures are important for all healthcare personnel. Immediate decompression of the thorax is mandatory when tension pneumothorax is suspected. This should not be delayed for radiographic confirmation. Note the image below.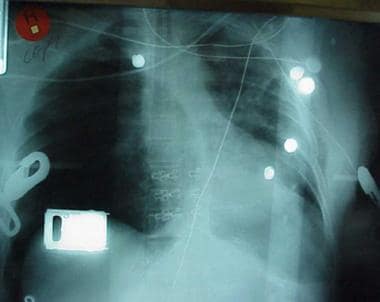 This chest radiograph has 2 abnormalities: (1) tension pneumothorax and (2) potentially life-saving intervention delayed while waiting for x-ray results. Tension pneumothorax is a clinical diagnosis requiring emergent needle decompression, and therapy should never be delayed for x-ray confirmation.
---
Did this answer your question?
Additional feedback? (Optional)
Thank you for your feedback!