Answer
Traumatic pneumothorax results from blunt trauma or penetrating trauma that disrupts the parietal or visceral pleura (see the images below). Management steps for traumatic pneumothoraces are similar to those for other, nontraumatic causes. If hemodynamic or respiratory status is compromised or an open (communicating to the atmosphere) and/or hemothorax are also present, tube thoracostomy is performed to evacuate air and allow re-expansion of the lung. There is a subset of traumatic pneumothoraces classified as occult; that is, they cannot be seen on chest radiographs but can be seen on CT scans. In general, these can be observed and treated if they become symptomatic.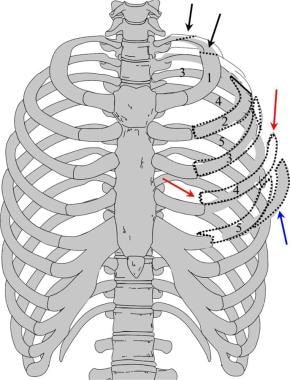 Illustration depicting multiple fractures of the left upper chest wall. The first rib is often fractured posteriorly (black arrows). If multiple rib fractures occur along the midlateral (red arrows) or anterior chest wall (blue arrows), a flail chest (dotted black lines) may result, which may result in pneumothorax.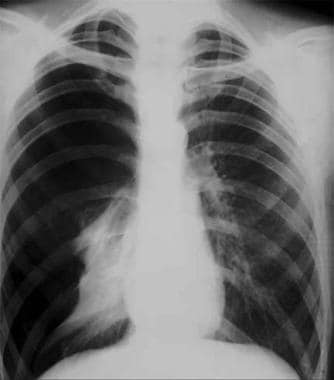 Radiograph of a patient with a complete right-sided pneumothorax due to a stab wound.
---
Did this answer your question?
Additional feedback? (Optional)
Thank you for your feedback!