Answer
Iatrogenic pneumothorax is a traumatic pneumothorax that results from injury to the pleura, with air introduced into the pleural space secondary to diagnostic or therapeutic medical intervention (see the following image). Half a century ago, iatrogenic pneumothorax was predominantly the result of deliberate injection of air into the pleural space for the treatment of tuberculosis (TB). The terminology evolved to the preference for "induced" or "artificial" pneumothorax to indicate pulmonary TB treatment, before arriving at the current classification. Pulmonary TB remains a significant cause of secondary pneumothorax.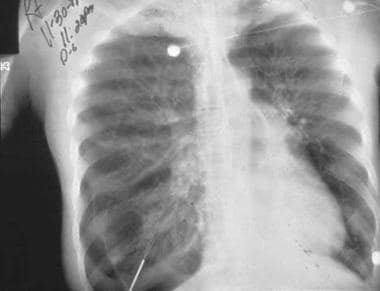 Radiograph of an older man who was admitted to the intensive care unit (ICU) postoperatively. Note the right-sided pneumothorax induced by the incorrectly positioned small-bowel feeding tube in the right-sided bronchial tree. Marked depression of the right hemidiaphragm is noted, and mediastinal shift is to the left side, suggestive of tension pneumothorax. The endotracheal tube is in a good position.
---
Did this answer your question?
Additional feedback? (Optional)
Thank you for your feedback!