Answer
Secondary spontaneous pneumothorax (SSP) occurs in people with a wide variety of parenchymal lung diseases. [2] These individuals have underlying pulmonary pathology that alters normal lung structure (see the image below). Air enters the pleural space via distended, damaged, or compromised alveoli. The presentation of these patients may include more serious clinical symptoms and sequelae due to comorbid conditions.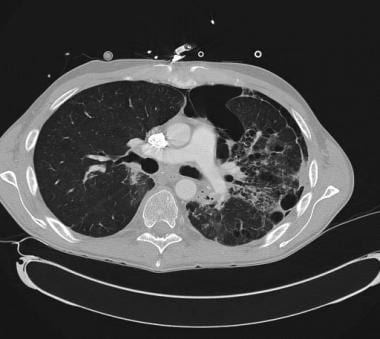 Computed tomography scan demonstrating secondary spontaneous pneumothorax (SSP) from radiation/chemotherapy for lymphoma.
---
Did this answer your question?
Additional feedback? (Optional)
Thank you for your feedback!