Answer
Answer
Congenital lobar emphysema (CLE) is a potentially reversible though possibly life-threatening cause of respiratory distress in the neonate. Congenital lobar emphysema is most often detected in neonates or identified during in utero ultrasound. Anomalies are infrequent and usually present at birth. Lobar distention can be visible during in utero ultrasound as an overinflated, fluid-filled lobe; in less severe cases, the diagnosis is made in infancy or childhood. [1, 2, 3, 4, 5] CLE rarely occurs in adults. [6, 7]
The clinical diagnosis of CLE can be challenging, and chest radiography is often diagnostic. Key findings include hyperlucency on the affected side with ipsilateral atelectasis, widened rib spaces, and diaphragmatic flattening. The mediastinum may be displaced away from the affected side and may herniate into the contralateral hemithorax. Pneumonia is a common misdiagnosis for CLE. [10]
See the images below of congenital lobar emphysema.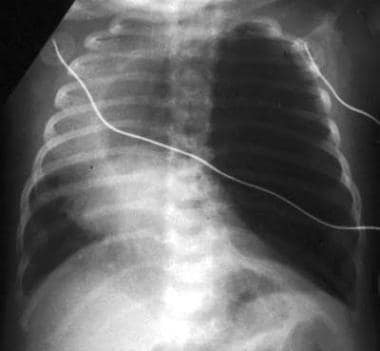 A frontal radiograph of the chest in a neonate shows marked overdistention of the left upper lobe with mediastinal shift to the right.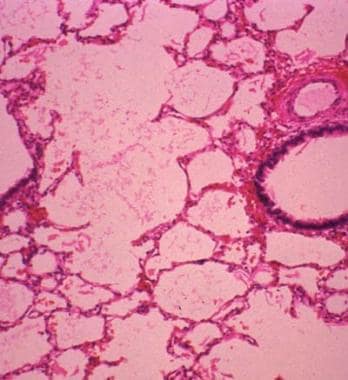 Histopathology of congenital lobar emphysema with marked overdistention of all alveoli.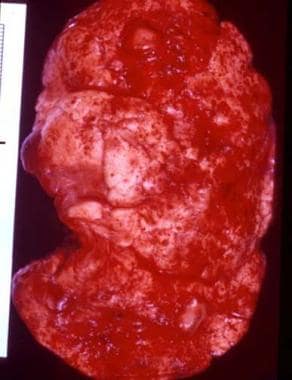 Resected lobe is overexpanded and shows no other intrinsic abnormality.
---
Did this answer your question?
Additional feedback? (Optional)
Thank you for your feedback!