Answer
Answer
Pelvic ultrasonography is the examination of choice, followed by magnetic resonance imaging (MRI) and/or computed tomography (CT) scanning. [5, 6, 7] The ovary may be difficult to delineate in some women who are postmenopausal, because of its relatively small size (< 2 × 2 cm), its position deep within the pelvis, and the lack of identifiable contained structures, such as cysts. [8, 9, 10, 11] Relatively simple ultrasound-based rules can be used to diagnose ovarian malignancy, such as the International Ovarian Tumor Analysis (IOTA) rules. [2, 3] The American College of Radiology, U.S. Preventive Services Task Force, American College of Obstetricians and Gynecologists, Society of Gynecologic Oncologists, and National Comprehensive Cancer Network have published guidelines on imaging for ovarian cancer (see Guidelines, below).
(See the images and video below.)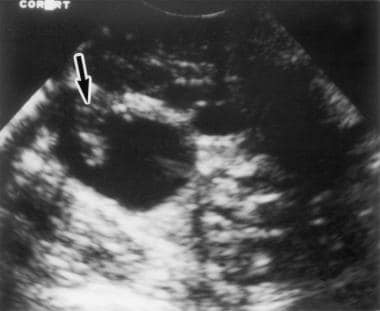 Transvaginal ultrasonogram shows the right ovary, which contains a cystic mass with a papillary excrescence (arrow). This finding is highly indicative of an ovarian neoplasm.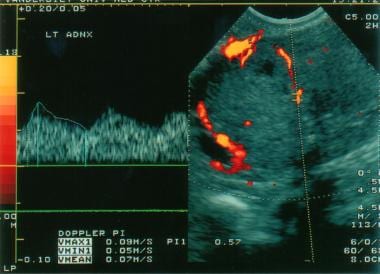 Transvaginal, color Doppler ultrasonogram shows a solid mass in the left ovary. Low impedance flow is noted within this mass, which is a clear cell carcinoma of the ovary.
Three-dimensional, color Doppler ultrasonogram shows a cystic mass containing a vascular papillary excrescence; this is indicative of ovarian cancer.
---
Did this answer your question?
Additional feedback? (Optional)
Thank you for your feedback!