Answer
Answer
Masses that develop in a patient with hemophilia can be evaluated by computed tomography (CT) scanning, which is good for defining pseudotumors, whether they occur in soft tissues, in cortical bone, or in the medullary cavity (see the following image). Soft-tissue hemorrhage that causes neurovascular compromise can also be evaluated with this modality. In particular, pathology in bone, such as an osseous pseudotumor, is well seen with CT scanning. Soft-tissue changes are better seen with MRI than with CT scanning.
Using high-resolution peripheral quantitative computed tomography (HR-pQCT), Lee et al demonstrated the presence of low trabecular and cortical bone density contributing to lower volumetric bone mineral density at both the distal radius and tibia in patients with hemophilia, as compared with age- and sex-matched controls. The authors noted that low bone density is a growing concern in aging men with hemophilia and may result in high-morbidity fragility fractures. [40]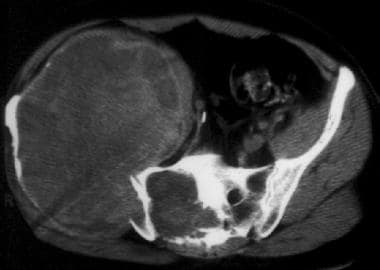 Computed tomography scan of the pelvis in a patient with hemophilia. This image demonstrates a giant pseudotumor (a large expansile lytic lesion that involves the right iliac bone and extends into the sacrum, with inhomogeneous internal attenuation). Image courtesy of Javier Beltran, MD.
---
Did this answer your question?
Additional feedback? (Optional)
Thank you for your feedback!