Answer
Answer
The hip is not commonly a target joint, but because of the way the blood supply reaches the femoral head, osteonecrosis may occur after intra-articular bleeding does. Osteonecrosis may also occur in the shoulder or ankle (see the image below). Severe osteoporosis and spontaneous hip dislocation may develop. This distribution in the hips, shoulders, and ankles is probably related to the way the vascular supply enters the joint capsule and nourishes the underlying epiphysis.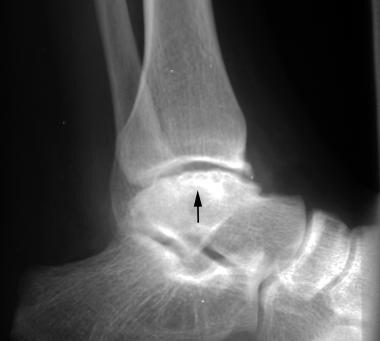 Radiograph of the ankle in a 20-year-old patient with hemophilia. This image shows the development of osteonecrosis (arrow) in the talar dome.
---
Did this answer your question?
Additional feedback? (Optional)
Thank you for your feedback!