Answer
Answer
Findings similar to those in the knee also develop in the ankle. With increased screening for joint abnormalities as part of an aggressive treatment regimen for patients with hemophilia, investigators have found that the ankle is more commonly involved as a target joint than the knee. The overgrowth pattern in the ankle leads to a condition called talar tilt, which is a tibiotalar slanting that is due to relative undergrowth of the lateral side of the tibial epiphysis and that leads to a pronated foot position. MRI shows the extension of ankle effusion-synovitis into the subtalar joint (see the following image).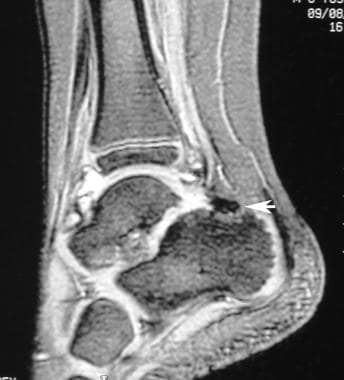 Sagittal magnetic resonance image of the ankle joint in a patient with hemophilia. This image shows extension of abnormal joint fluid from the ankle joint into the subtalar joint. Note the dark hemosiderin posterior to the subtalar fluid (arrow).
---
Did this answer your question?
Additional feedback? (Optional)
Thank you for your feedback!