Answer
Answer
The pathologic-anatomic appearance progresses from joint hemorrhage to joint effusion; synovial hyperplasia; hemosiderin deposition in the synovium, cartilage, and bone; osteoporosis; erosion of subchondral bone; bone cysts; articular cartilage destruction; overgrowth of the epiphysis; joint contracture; and degenerative arthritis.
The disease tends to be asymmetric in its involvement. Approximately 50% of patients with hemophilia develop permanent changes in the joint. These chronic changes include thick synovial deposition, richly laden with hemosiderin. The synovial masses erode the juxta-articular cartilage and the subchondral bone (see the first image below). Invasion into the bone substance produces intraosseous cyst formation. Bleeding into the bone may rarely produce large, vacuolated spaces that are referred to as intraosseous pseudotumors. Similar blood masses may occur in the cortex and the soft tissues (see the second image below).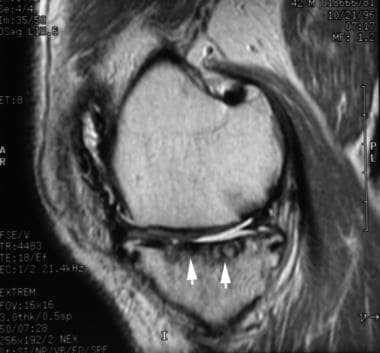 Magnetic resonance image from a patient with hemophilia. This image shows dark, synovial masses that erode the cartilage and produce subchondral cysts (arrows).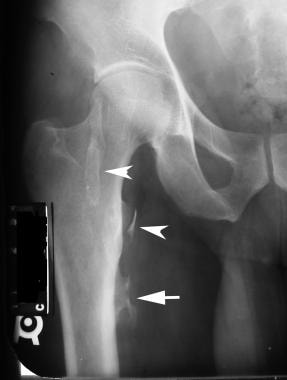 Radiograph in a patient with hemophilia. This image depicts a pseudotumor that is deforming the cortex of the femur (arrow). Other ossified masses in the soft tissues (arrowheads) are probably soft-tissue pseudotumors.
---
Did this answer your question?
Additional feedback? (Optional)
Thank you for your feedback!