Answer
Answer
Hemophilia is the oldest known bleeding disorder and is a disease almost exclusively of males because the defective gene is found on the X chromosome. The deficiency or absence of either of 2 clotting elements—factor VIII or factor IX—leads to the clinical condition described as hemophilia A or hemophilia B, respectively, and these 2 sex-linked disorders become clinically apparent in males. [1, 2] See below for images from a father with hemophilia and his affected daughter.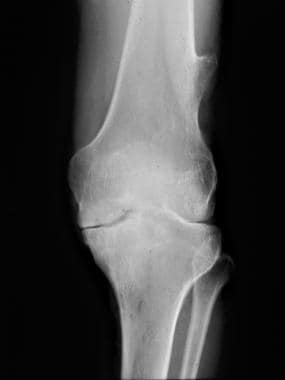 Knee radiograph in a 37-year-old man with moderate factor IX hemophilia. This image shows bony excrescence on the lateral side of the femur is a hemophilic pseudotumor.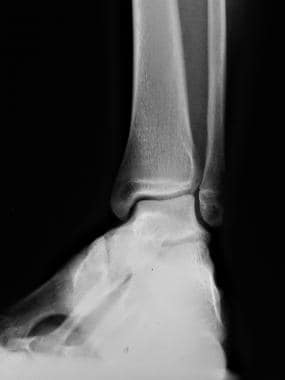 Radiograph of the lower extremity of the 3-year-old daughter of the patient in the previous image. This image shows talar tilt. The girl not only inherited 1 diseased X chromosome with mild factor IX hemophilia from her father, but she also has Turner (XO) syndrome. The child's only X chromosome had the hemophilia gene.
Females are generally asymptomatic carriers; this condition is so rare in females that another cause of unexplained or problematic bleeding should be considered before this condition. For example, a traumatic effusion or pigmented villonodular hyperplasia is more likely than hemophilia as an etiology for a bleeding disorder in a female.
For men with hemophilia, the incidence of postoperative transfusions associated with total hip or knee arthroplasty (1998-2010) was 15.06%, compared with 9.84% in a matched comparison cohort, based on a Nationwide Inpatient Sample. [17]
---
Did this answer your question?
Additional feedback? (Optional)
Thank you for your feedback!