Answer
Answer
CT scan findings are nonspecific and usually demonstrate a single round or lobulated mass with a soft-tissue density. The lesions measure approximately 3-12 cm in their largest dimension and are usually found near a joint. Masses in the head and neck or distal extremities are smaller at presentation, presumably secondary to an early mass effect.
The mass is usually well defined (as in the CT scans below) but can occasionally appear infiltrative and can be homogeneous and show homogeneous enhancement, particularly in smaller lesions; alternatively, if hemorrhage or necrosis has occurred, the lesion may be multiloculated and show heterogeneous enhancement. [18, 24, 9]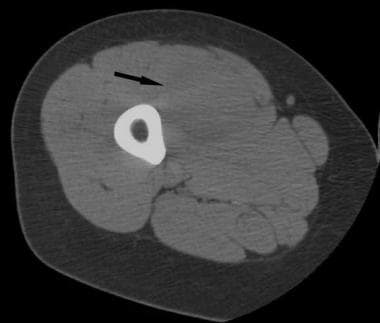 Computed tomography scan through the right thigh. This image demonstrates a round, noncalcified, well-circumscribed mass that displaces, rather than invades, the surrounding muscles. The mass appears to be separate from the bone.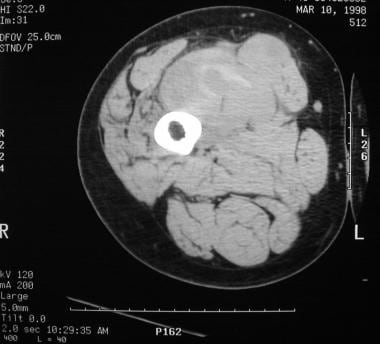 Computed tomography scan of the thigh in a 45-year-old man who presented with a large, right midthigh mass. A well-defined mass is seen on the anterior aspect of the thigh and appears to be mostly isodense relative to the muscle, with curvilinear areas of slightly increased density. The mass appears apposed to the underlying bone.
Calcifications are demonstrated in 30% of patients [1] ; typically, diffuse punctate calcifications are revealed. These are often more concentrated at the periphery than at the center. Extensive calcifications can be similar in appearance to osteosarcoma or a calcified chondroid lesion. Densely calcified lesions, when found near a joint, may simulate tumoral calcinosis. Areas of calcification are seen in the image below.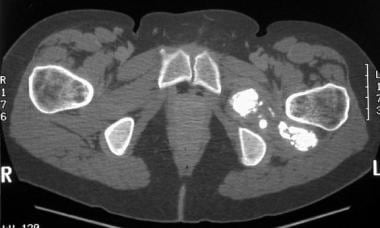 Computed tomography scan of the hip in a patient who presented with a mass in the region of the left hip. The scan was obtained through the mass and demonstrates masslike areas of calcification within the muscle density in the region of the left obturator externus muscle.
Involvement of the adjacent bone can cause changes, including cortical invasion with a wide zone of transition, bone remodeling from pressure erosion, and/or adjacent periosteal reaction.
---
Did this answer your question?
Additional feedback? (Optional)
Thank you for your feedback!