Answer
Answer
Conventional radiographs are relatively insensitive for demonstrating osteoporosis. At least 30% of the bone mass must be lost before the loss is recognized. At this stage, the radiographic changes of generalized osteoporosis are more prominent in the axial skeleton than elsewhere. [9, 4]
In the spine, the accentuated primary trabecular pattern produces a vertically striated appearance in the vertebral bodies. Likewise, the loss of trabecular mass causes accentuation of the cortical outline, which is described as "picture framing" of the vertebral bodies. The vertebral bodies may become biconcave in shape, or compression fractures may be apparent. In tubular bones, the loss of trabecular bone may cause the metaphyses to appear radiolucent. Pathologic fractures may occur at multiple sites.
In the tubular bones, bone resorption may be distinguished in 3 sites: the endosteal envelope, the intracortical [haversian] envelope, and the periosteal envelope. These changes are best depicted with magnification radiography; they are quantitated with radiogrametry (see the images below).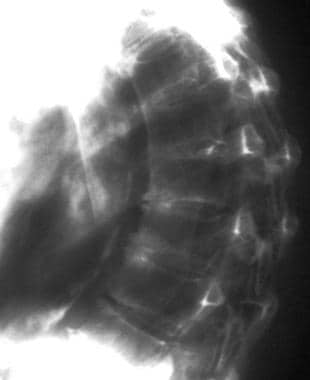 Involutional osteoporosis. Note the overall reduction in the bone density and moderate kyphosis of the dorsal spine.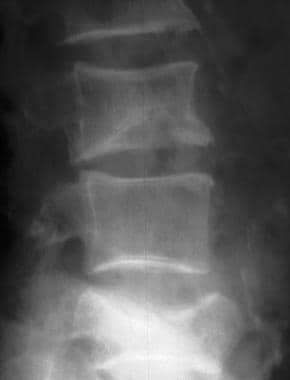 Involutional osteoporosis. Note the lateral wedge fracture of L3 and a central burst fracture of L5. The patient had a recent fall.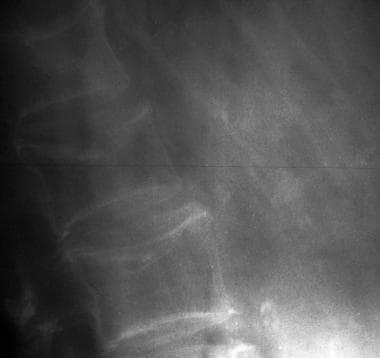 Involutional osteoporosis. Note the considerable reduction in the overall bone density and lateral wedge fracture of L2.
Other radiographic manifestations of osteoporosis include the following:
Involvement of the lower dorsal and lumbar spine, proximal humerus, femoral neck, and ribs (These sites are most commonly affected.)

Increased radiolucency of bones

Decreased number and increased thickness of trabeculae

Juxta-articular osteopenia with trabecular prominence

Bone bars (reinforcement lines)

Vertebral wedge fractures, fish vertebrae, Schmorl nodes, and decreased heights of vertebrae and accentuation of the cortical outlines (also called picture framing)

Compression deformities associated with protrusion of intervertebral disks and prominence of end plates

Vertical vertebral striations due to marked thinning of the transverse trabeculae with relative prominence of vertical trabeculae.
---
Did this answer your question?
Additional feedback? (Optional)
Thank you for your feedback!