Answer
Answer
Radiographs may reveal a nonspecific soft-tissue mass (see the image below), often greater than 5 cm in diameter. Deep intramuscular tumors often lie adjacent to the diaphysis of a long bone.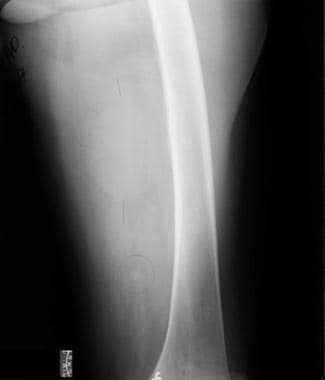 Radiograph demonstrates a soft tissue mass posterior to the femoral diaphysis. Although not appreciated on the radiograph, a component of the mass extends inferiorly and contains a small cluster of calcifications (within circle).
Secondary osseous involvement, including periosteal reaction, cortical erosion, and pathologic fracture, is uncommon but suggestive of a malignant soft-tissue sarcoma.
Calcification or ossification can be detected in 5-20% of patients. Calcifications within the tumor may be punctate, curvilinear, and/or poorly defined.
Heterotopic bone formation may be present in the periphery of the mass.
---
Did this answer your question?
Additional feedback? (Optional)
Thank you for your feedback!