Answer
Answer
As with other soft-tissue tumors, MRI is the imaging method of choice because of its ability to provide superior contrast between tumor and muscle, excellent definition of surrounding anatomy, and ease of imaging in multiple planes. [9, 10]
(UPSs are displayed in the images below.)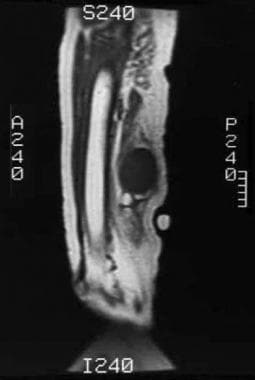 Noninfused T1-weighted MRI reveals a low signal intensity mass posterior to the femoral diaphysis (same patient as in the previous image).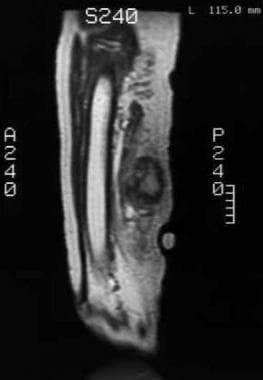 T1-weighted MRI obtained following intravenous gadolinium administration reveals inhomogeneous enhancement of the soft tissue mass (same patient as in the previous image).
Although MRI is typically best suited for defining the anatomy of the tumor and its surrounding structures, the signal characteristics of pleomorphic sarcoma, as well as the true histologic nature of the tumor or other soft-tissue masses, often cannot be ascertained by imaging alone, with few exceptions (eg, lipoma). Furthermore, patients with claustrophobia or cardiac pacemakers and aneurysm clips may not be able to undergo examination with MRI. In these patients, axial CT scanning may be performed. CT scanning can provide adequate information regarding the location and gross extent of the mass, although the contrast between tumor and muscle is often less than that seen with MRI. CT scanning is also useful for evaluation of calcifications. [11, 12]
No single imaging technique can provide a specific histologic diagnosis of pleomorphic sarcoma, and biopsy is usually necessary. If the radiologist is asked to perform a biopsy on a potentially malignant soft-tissue mass, the orthopedic surgeon resecting the mass must be consulted first. With certain tumors, the biopsy tract must be removed with the mass; a presurgical image-guided biopsy performed without appropriate orthopedic consultation may result in more extensive surgery (including amputation) than would have been necessary otherwise.
See Soft-Tissue Sarcomas: What You Need to Know, a Critical Images slideshow, to help identify and treat some of these malignant tumors of mesenchymal origin.
---
Did this answer your question?
Additional feedback? (Optional)
Thank you for your feedback!