Answer
Answer
Undifferentiated pleomorphic sarcoma (UPS), previously called malignant fibrous histiocytoma (MFH), is a soft tissue sarcoma (STS) that can occur anywhere in the body, but it usually occurs in the extremities (especially the thighs) or back of the abdomen (see the image below). Approximately 15% of undifferentiated pleomorphic sarcomas arise in the abdomen and pelvis. [1] UPS often grows quickly and spreads to other parts of the body, including the lungs.
Undifferentiated pleomorphic sarcoma usually occurs in older adults, and men account for two thirds of cases. UPS is the most common sarcoma to develop at sites of prior irradiation. Investigators have shown that most patients have received a radiation dose of 50 Gy or more, and the median time interval between radiation exposure and the development of a radiation-associated sarcoma is approximately 10 years. Undifferentiated pleomorphic sarcoma may also arise at sites of chronic ulceration. [1]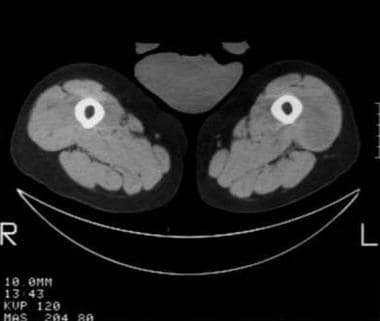 CT reveals a mass within the anterior compartment musculature of the left thigh. The malignant fibrous histiocytoma is only slightly hypodense to muscle and conceivably could be overlooked.
---
Did this answer your question?
Additional feedback? (Optional)
Thank you for your feedback!