Answer
Answer
For the patient with a traumatized acetabulum, accurate radiographic diagnosis and classification are the cornerstones of effective clinical care. Acetabular fractures are caused by high kinetic energy, and satisfactory management requires differentiation of the fracture types. The classification system of Judet and Letournel has led to improved management of such injuries. [1, 2, 3, 4] However, trauma-related acetabular fractures are often complex, with multiple fragments and secondary fracture lines. Computed tomography (CT) provides information regarding the extent of the fracture and is complementary to radiography for ascertaining the spatial arrangement of fracture fragments. Three-dimensional (3D) reconstruction of CT data can be helpful in understanding the complex fracture patterns.
Acetabular fractures are often complex injuries and the result of high-energy trauma with associated injuries. Understanding and classification of these rare injuries using radiography can be difficult and are much facilitated by the addition of CT. Using multidetector CT (MDCT) with two-dimensional (2D) multiplanar reformatted (MPR) images and 3D volume-rendered images, the supplemental oblique radiographic Judet views can usually be omitted. MDCT is an indispensable tool in preoperative imaging of acetabular fractures, as well as postoperative imaging in complicated cases. MDCT is excellent for detailed imaging of fracture extent, joint congruency, step-offs or gaps in the joint surface, and entrapped osteochondral fragments. [1, 5, 6]
Most acetabular fractures occur in the setting of significant trauma secondary to either a moving vehicular accident or a high-velocity acute-deceleration injury. Blunt force is exerted on the femur, is transmitted through the femoral head, and is transferred to the acetabulum. The direction and magnitude of the force, as well as the position of the femoral head, determine the pattern of acetabular injury. The determination of the pattern of injury is key to the classification of an acetabular fracture, which, in turn, is critical to yield the highest quality orthopedic surgical treatment and therapy.
Once the acetabular fracture is classified, appropriate therapy may be planned and implemented. [7, 8, 9, 10, 11] The anatomy of the acetabulum and computed tomography (CT) images of fractures are depicted below.

Lateral view of the left acetabulum. The left femur has been removed. The articular surface of the acetabulum is in the shape of an inverted horseshoe (outlined in red). The anterior column of the acetabulum includes most of the iliac wing, the anterior acetabulum, and the superior pubic ramus. The posterior column begins at the sciatic notch and includes the posterior portion of the acetabulum and the ischium.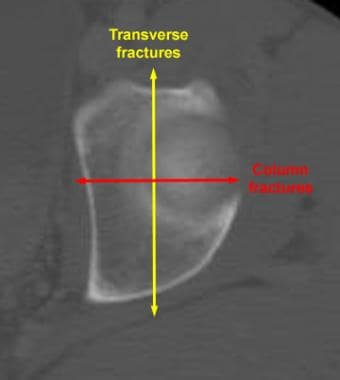 Acetabular fracture orientation with a computed tomography (CT) scan. A CT scan of the left acetabulum obtained at the level of the dome shows that transverse-type acetabular fractures have a vertical (sagittal) orientation. Column-type fractures have a horizontal (coronal) orientation.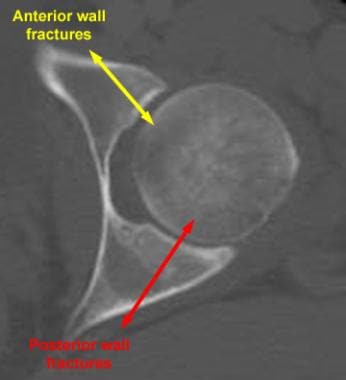 Acetabular fracture orientation with a computed tomography (CT) scan. A CT scan of the left midacetabulum shows that wall fractures have an oblique orientation.
---
Did this answer your question?
Additional feedback? (Optional)
Thank you for your feedback!