Answer
Answer
The diagnosis of optic neuritis (inflammation of the optic nerve) is usually made clinically, with direct imaging of the optic nerves by magnetic resonance imaging (MRI) being reserved for atypical cases. Optic neuritis, which is one of the causes of acute loss of vision associated with pain, can be the initial episode for a patient who will subsequently develop multiple sclerosis (MS). (See the images below.)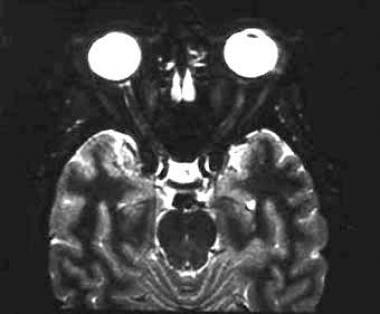 A 43-year-old woman with acute vision loss and eye pain. No prior neurologic symptoms were noted. Axial, short tau inversion recovery (STIR) image demonstrates faint increased signal in the distal left optic nerve.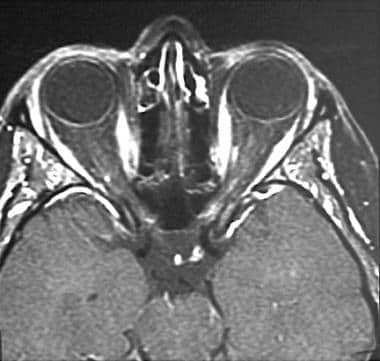 A 35-year-old woman with acute onset of left-eye pain and vision decline. Axial, fat-suppressed, postcontrast, T1-weighted image demonstrates enhancement in the intracanalicular portion of the left optic nerve.
MRI of the brain provides information that can change the management of optic neuritis and yields prognostic information regarding the patient's future risk for the development of multiple sclerosis. As established by the Optic Neuritis Treatment Trial, an abnormal baseline brain MRI scan is a strong predictor of MS after isolated optic neuritis in adults. [4, 9, 10, 11, 1]
---
Did this answer your question?
Additional feedback? (Optional)
Thank you for your feedback!