Answer
Answer
The most common sonographic appearance of TCC is that of a hypoechoic mass in the renal collecting system that splits the central echocomplex with varying degrees of infundibular dilatation. Focal hypoechogenicity of adjacent renal cortex reflects local invasion. Occasionally, the central echocomplex may be only segmentally amputated. (See the images below.) [16, 17, 18]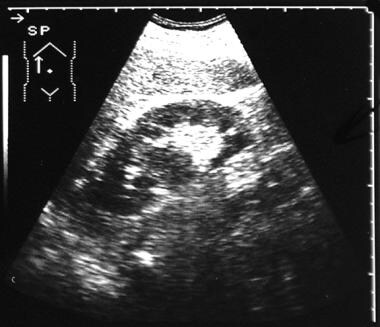 Longitudinal sonogram obtained through the right kidney shows a hypoechoic mass bisecting the renal sinus fat. The mass is a transitional cell carcinoma.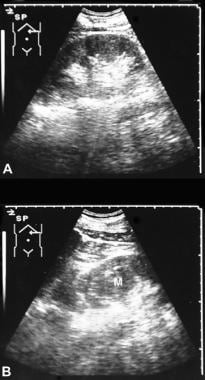 Top, Longitudinal sonogram obtained thorough the left kidney in a 58-year-old man presenting with hematuria shows a normal left kidney. Bottom, More medial section through the same kidney shows a vague isoechoic mass in the upper of the kidney. Whether this finding represented an artifact or a genuine lesion was unclear. Technetium-99m dimercaptosuccinate (99mTc DMSA) scanning is good modality for differentiating a renal pseudomass from a genuine mass.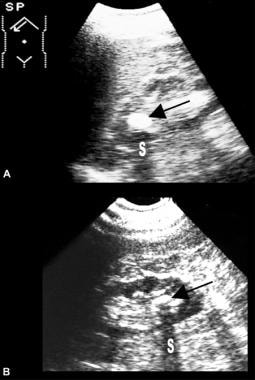 Longitudinal sonogram through left kidney shows that the filling defects are due to calculi. Ultrasonography is an efficient means for differentiating between radiolucent calculi and uroepithelial tumors.
---
Did this answer your question?
Additional feedback? (Optional)
Thank you for your feedback!