Answer
Answer
Gallium-67 citrate has been used for diagnosing and staging lymphoma. This radioisotope concentrates in lymphoma; gallium is taken up by lymphomatous tissue in the kidneys, and it is also concentrated in inflammatory masses of the kidney. Therefore, obtaining the clinical history of patients is important. [23, 24, 20]
18F-fluorodeoxyglucose (FDG) positron emission tomography (PET) scanning has very high but not absolute specificity for malignant lymphoma. It has been reported that increased FDG uptake may also be observed in patients without active disease; in most cases, however, nonpathologic FDG accumulation is properly identified. Less frequently, inconclusive scans are encountered; these cases are usually caused by inflammation, which subsequently resolves. [27, 28]
The use of another agent, technetium-99m (99Tc)-labeled antibody (LL2), has been advocated in imaging and staging lymphomas. [28]
Testing with gallium-67 citrate has an overall sensitivity of approximately 80% (see the image below). However, in patients with high-grade lymphoma, gallium scanning has a higher degree of sensitivity. LL2 scanning also has a sensitivity of 80%; however, in patients with low-grade lymphoma, LL2 imaging usually has a higher degree of sensitivity.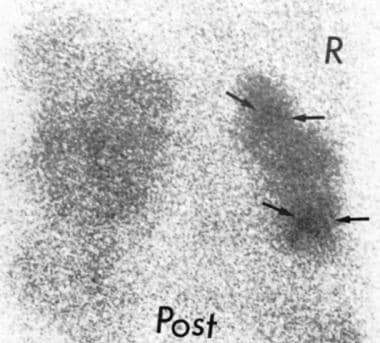 Gallium scan in a 55-year-old woman with known diffuse, poorly differentiated lymphoma who was admitted to the hospital because of renal failure. The patient had a creatinine level of 3. A sonogram (not shown) was performed and revealed no hydronephrosis. However, the echotexture of the kidneys was abnormal on the sonogram, and the possibility of renal lymphoma was suggested. This posterior view of the kidneys (Post) obtained at 72 hours after the injection of gallium-67 citrate shows multiple abnormal areas of increased uptake (arrows), particularly on the right side (R). This finding is consistent with renal involvement by lymphoma. Urinalysis results were normal, excluding underlying infection. Some residual gallium was noted in the colon. Gallium scan findings were normal 4 months after appropriate chemotherapy.
Inconclusive scans are encountered with both gallium-67 citrate and FDG-PET. These cases are usually caused by inflammation, which subsequently resolves.
---
Did this answer your question?
Additional feedback? (Optional)
Thank you for your feedback!