Answer
Answer
Ultrasonography often demonstrates single or multiple renal masses that have low-level echoes (see the the first image below). Occasionally, the ultrasonographic findings may appear normal because of the small size of the renal nodules (see the second image below). In addition, varying degrees of hydronephrosis may be seen because of compression of the renal hilum that is caused by lymph nodes or obstruction of the ureters. [20, 4]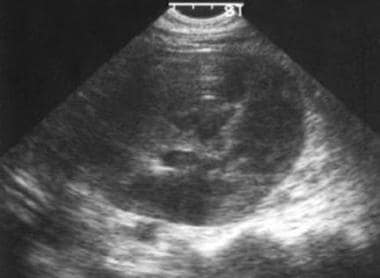 Axial sonogram in a 22-year-old woman with known lymphoma. A baseline sonogram was performed, which demonstrated renal lymphoma. This image depicts a large kidney with heterogeneous echotexture and poorly defined areas of hypoechogenicity. A mild degree of hydronephrosis is noted. After chemotherapy, follow-up ultrasonographic images showed complete resolution of the renal lymphoma.
Sagittal baseline sonogram in a 15-year-old male adolescent with non-Hodgkin lymphoma. This image shows near-normal architecture of the left kidney. Both kidneys were reported as normal (left kidney size, 11.4 X 5.7 cm), and no indication of hydronephrosis was noted.
On sonograms, a perirenal hypoechoic halo is characteristic of perirenal lymphoma (see the image below).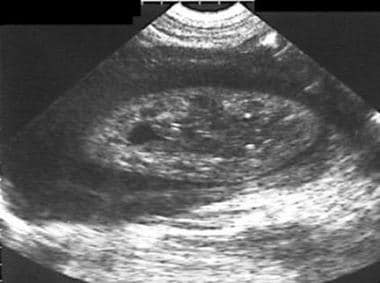 Sonogram in a 62-year-old man who presented with palpable flank masses demonstrates perirenal lymphoma without retroperitoneal adenopathy. Although the left kidney appears to show no indication of a mass or hydronephrosis, a hypoechoic but solid-appearing area surrounds the kidney. The ultrasonographic findings may simply represent a perirenal complicated fluid collection or edema; however, perirenal lymphoma should be considered. Because of the underlying renal disease, the echotexture is increased throughout the kidney. This study was followed by computed tomography scanning and magnetic resonance imaging.
The degree of confidence with the ultrasonographic assessment of renal involvement is lower than that of CT scanning or MRI; however, in patients with perirenal involvement, the pattern of a halo sign is a characteristic finding.
As a result of the homogeneous nature of large lesions, these lesions appear hypoechoic on ultrasonography, but without enhanced through-transmission. Occasionally, differentiating large lesions from a simple or a complicated cyst is difficult. If the lesions are small or if the nature of involvement is diffuse, the ultrasonographic findings can be normal.
---
Did this answer your question?
Additional feedback? (Optional)
Thank you for your feedback!