Answer
Answer
Plain radiographs are limited when compared with other available modalities, such as CT scanning, ultrasonography, and MRI. Intravenous urography may show distortion of the collecting system as a result of a single or multiple renal masses. This finding cannot be differentiated from findings in simple cysts or renal cystic disease. However, intravenous urograms of renal lymphoma can demonstrate normal or near-normal findings (see the images below). [31, 32]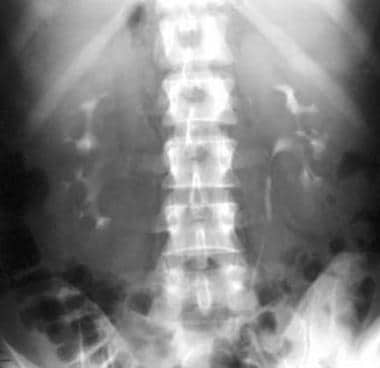 Intravenous urogram obtained during the excretory phase in a 52-year-old woman with non-Hodgkin lymphoma who presented with flank pain. This image reveals a near-normal renal collecting system, with slightly enlarged kidneys and minimal narrowing of the proximal ureter that are suggestive of an external mass effect.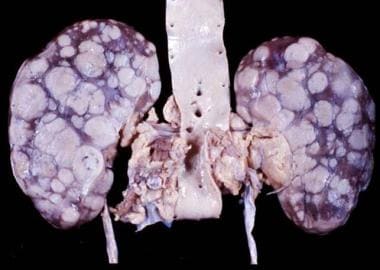 Autopsy specimen from a 52-year-old woman with non-Hodgkin lymphoma. Numerous lymphomatous nodules are visible throughout the kidneys.
With urography, the degree of confidence for the diagnosis of renal lymphoma is low. If renal involvement is suggested on an intravenous urogram, contrast-enhanced CT scanning or MRI must be performed. If the urographic findings are considered normal but the clinical findings (eg, abnormal renal function) suggest renal involvement, a cross-sectional study is indicated.
In lymphomatous renal involvement, findings of an intravenous urogram can be normal and, therefore, falsely negative. With urography, a high rate of false-negative diagnoses is possible.
---
Did this answer your question?
Additional feedback? (Optional)
Thank you for your feedback!