Answer
Answer
Lymphoma of the kidneys is diagnosed at the time of autopsy in almost one half of cases. It is rarely suspected on conventional urologic studies, such as intravenous urography. However, renal involvement with lymphoma is commonly discovered in patients with known lymphoma, who may be diagnosed, staged, or followed by cross-sectional imaging, such as computed tomography (CT) scanning (see the images below) or magnetic resonance imaging (MRI). [1]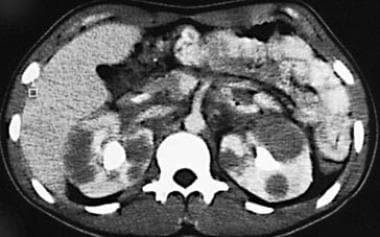 Contrast-enhanced computed tomography (CT) scan obtained during the pyelographic phase for staging in a 17-year-old male adolescent with known lymphoma. This image reveals a hypoattenuating nodular pattern of different-sized lesions in both kidneys that represent bilateral renal lymphoma. Hypoattenuating nodes are also shown in the retroperitoneum.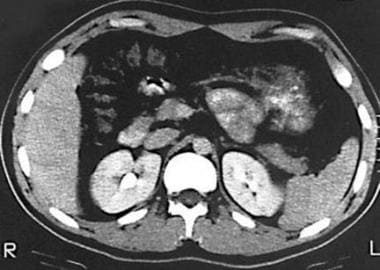 Computed tomography scan in a 17-year-old male adolescent with known lymphoma (same patient as in the previous image). This image was obtained 7 months after the initiation of chemotherapy in the patient and reveals complete resolution of the bilateral hypoattenuating lesions. The appearance and function of the kidneys are normal. Note the complete resolution of the retroperitoneal nodes.
Patients with renal lymphoma may not be symptomatic; however, renal function laboratory studies occasionally reveal elevated blood urea nitrogen and creatinine levels, which may suggest an obstruction. Therefore, the patient may need to undergo radiologic evaluation. [10, 11, 12, 13, 14, 15]
---
Did this answer your question?
Additional feedback? (Optional)
Thank you for your feedback!