Answer
Answer
Biliary complications occur in approximately 13-19% of adults following OLTX. With adult OLTXs, a primary, end-to-end choledochocholedochostomy is performed after donor cholecystectomy. In most cases of LDLTX, a biliary-enteric hepatojejunostomy is used to reconstitute bile drainage. T tubes no longer are used for either type of biliary anastomosis; therefore, T-tube complications are not considered in this article.
Bile duct strictures can be anastomotic or nonanastomotic. Some anastomotic strictures result from technical difficulties. Other anastomotic strictures are caused by fibrosis and scarring that can be associated with bile leaks. Anastomotic stenosis can be related to marginal blood supply of the cut ends of the donor and recipient ducts. Nonanastomotic strictures can be caused by HAS, HAT, prolonged cold ischemia time, rejection, cytomegalovirus infection, intraductal sludge and stone formation, and recurrent primary sclerosing cholangitis in the allograft (see image below). [21, 22, 34]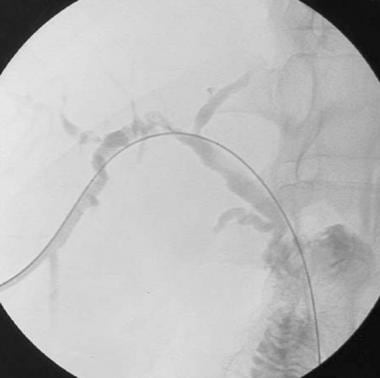 Multiple ischemic biliary strictures documented during interventional external-internal drainage procedure.
---
Did this answer your question?
Additional feedback? (Optional)
Thank you for your feedback!