Answer
Answer
As OLTX has become more widespread, limited organ availability has become a concern, and recipient waiting lists have lengthened. As a result, much interest has arisen in adult-to-adult, living-donor liver transplantation (LDLTX). This is a technique modified from previously established adult-to-child hepatic transplantation surgery (see the image below). In adult-to-adult LDLTX, a portion of the liver from an immunologically compatible donor, often a relative, is used to replace the entire diseased liver of the recipient. At the author's institution, the right lobe usually is taken as the graft. The donor is left with enough liver to maintain normal hepatic function, and the recipient is given enough liver to restore function. The donor and the recipient benefit from significant hepatic hyperplasia that begins within 12 hours of surgery.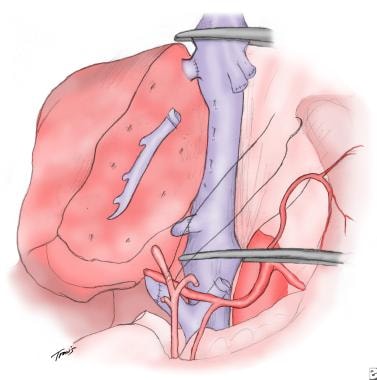 Drawing of an orthotopic liver transplant and the basic surgical anastomoses.
---
Did this answer your question?
Additional feedback? (Optional)
Thank you for your feedback!