Answer
Answer
US appearance of hepatocellular carcinoma (HCC) is variable. Note that the quality of a US examination is operator dependent. Take care to evaluate the entire liver completely because it is not difficult to overlook a small hepatic mass. Small HCCs can be homogeneously hyperechoic and can mimic hemangioma. This can result from a large proportion of fat being present in the tumor. Small HCCs also can appear hypoechoic, with larger HCCs frequently mixed in echogenicity.Good-quality US with careful evaluation of the entire liver can, in combination with serum alpha-fetoprotein (AFP) evaluation, be a screening examination for HCC in patients at risk; however, sensitivity of US for the detection of lesions in a cirrhotic liver is limited. [8, 10, 16, 17, 18, 24, 25, 26, 27]
(See the image below.)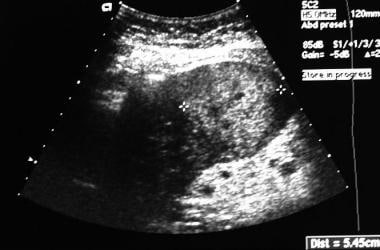 Ultrasound shows hyperechoic mass representing hepatocellular carcinoma.
The FDA approved sulfur hexafluoride (Lumason) for ultrasonography of the liver in adults and children to enhance the characterization of focal liver lesions. Contrast-enhanced ultrasound (CEUS) greatly improved diagnosis as compared to ultrasound without contrast. In one study, CEUS allowed a correct diagnosis in more than 80% of focal liver lesions and led to a change in the diagnostic workup in 131/157 patients (83.4%) and in the therapeutic workup in 93/157 patients (59.2%). [27]
One retrospective review of patients with HCC found that almost half of HCCs had posterior acoustic enhancement to some degree. This may be linked to the tissue characteristics of the tumor or the cirrhotic liver itself. During sonographic screening, focusing on this finding, including scanning without spatial compounding, is advised. [28]
Vascular invasion can be adequately evaluated using color Doppler imaging with conventional gray-scale US. Look for tumor thrombus in hepatic and portal veins as well as in the inferior vena cava. Portal venous invasion is more common in HCC, but hepatic vein invasion is more specific for HCC.
In particular, small hyperechoic masses seen on US require further evaluation because they can represent hemangioma (most commonly), metastatic disease or, less likely, HCC. Further imaging with CT scanning or MRI during dynamic contrast enhancement shows the typical peripheral, nodular contrast enhancement pattern of hemangioma. MRI or CT scanning can further characterize many nonspecific hepatic masses seen on US.
Some studies have reported US as having a 60% sensitivity and a 97% specificity in patients with cirrhosis [11, 29]
A meta-analysis by Hanna et al found that CEUS had a sensitivity of 84.4% and a positive predictive value of 89.3% for detection of HCC. [30]
The ACR released the Ultrasound Liver Imaging Reporting Data System (LI-RADS) algorithm to classify lesions at risk of HCC as investigated by CEUS. [19, 31]
---
Did this answer your question?
Additional feedback? (Optional)
Thank you for your feedback!