Answer
Answer
Proper technical performance of CT scanning with imaging in the hepatic arterial and portal venous phases, as well as delayed contrast images, is important in detecting hepatocellular carcinoma (HCC). Lesions may be missed if early vascular imaging is not performed. It is important to use high injection rates and appropriate bolus timing. Sensitivity of good-quality dual- or triple-phase CT scanning for the detection of patients with tumors is 60-70%. [10, 16, 17, 18, 20, 21]
The CT appearance of HCC varies depending on tumor size and the imaging phase. The most common attenuation pattern is iso-hyper-isoattenuation on prephase, arterial phase, and venous phase, respectively; however, this pattern is shared by other hepatocellular nodules, including regenerative and dysplastic nodules.
Unenhanced CT typically reveals an iso-hypodense mass. If the mass is large, central areas of necrosis may be seen. Look for signs of cirrhosis or hemochromatosis.
In the hepatic arterial phase (seen in the image below), lesions typically are hyperdense (relative to hepatic parenchyma) as a result of hepatic arterial supply. Larger tumors may have necrotic central regions that are typically hypodense during this imaging phase. Look for neovascularity to indicate the presence of inconspicuous lesions.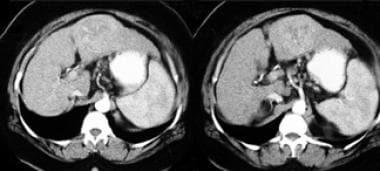 CT scan in the hepatic arterial phase of contrast enhancement showing neovascularity in a low-density hepatic mass.
In the portal venous phase, small lesions may be isodense or hypodense and difficult to see, since the remainder of the liver increases in attenuation. Larger lesions with necrotic regions remain hypodense.
In the delayed-postcontrast phase, small lesions may be inconspicuous on late phases. Delayed phase scans may show a tumor capsule, which is one of the more specific signs of HCC.
CT can also evaluate complications of HCC, such as portal venous or hepatic venous invasion. In addition, be alert and evaluate for other complications such as bleeding within the tumor and hemoperitoneum.
Evaluate underlying disease on CT, which can indicate the etiology of a hepatic mass. Look for signs of cirrhosis and hemochromatosis.
Cirrhotic nodules cannot be reliably differentiated from small HCCs. Since success of therapy depends on early HCC detection, the distinction is important; MRI can assist with nodule differentiation.
False-negative CT imaging can occur. Even the best CT scanner may have difficulty detecting small lesions, especially if good-quality, triphasic scanning is not performed. Prospective detection rates of tumors and tumor nodules were reported as 59% and 37%, respectively, in a large series with pathologic correlation. [21]
In the setting of an abnormal liver with elevated alpha-fetoprotein (AFP), a vascular mass or a large necrotic mass strongly suggests HCC; however, other hepatic lesions, benign or malignant, can mimic HCC on CT. MRI or nuclear imaging can assist in this differentiation.
---
Did this answer your question?
Additional feedback? (Optional)
Thank you for your feedback!