Answer
Answer
US is the most commonly used imaging modality for evaluating GB carcinoma; however, there have been no identified pathognomonic findings. [11] Indirect signs that suggest the presence of GB carcinoma are as follows:
Single or multiple intraluminal mass

Extraluminal mass that extends to the liver

Polyps larger than 1 cm in diameter
The thickening associated with early lesions is rarely detected. More advanced lesions may produce marked mural thickening with irregular and mixed echogenicity, as shown in the first image below; this is the second most common manifestation of GB carcinoma, accounting for 20-30% of patients. The GB may be small, normal, or distended, and gallstones are often present (see the second image below). GB wall thickening is nonspecific and may be seen in multiple medical conditions, including acute and chronic cholecystitis, heart failure, hypoalbuminemia, hepatitis, and cirrhosis. However, the GB wall thickening in these patients is usually diffuse in contrast to the focal thickening in patients who have GB carcinoma.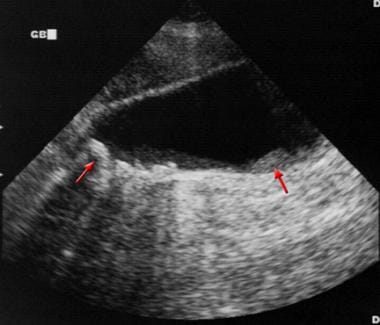 Sagittal sonogram in a 71-year-old woman. This image demonstrates heterogeneous thickening of the gallbladder wall (arrows). The diagnosis was primary papillary adenocarcinoma of the gallbladder.
The polyps or mass are of homogeneous echotexture without evidence of shadowing. The polyps are usually sessile and only rarely have a stalk; this is the least common manifestation of GB carcinoma, accounting for 15-25% of patients. Visualization of a polyp that is smaller than 1 cm in the appropriate age group should arouse suspicion for adenoma/adenocarcinoma, because only these incidental early lesions have a good prognosis. Gallstones may also be present and may prevent recognition of a small polypoid mass. Tumefactive sludge can mimic a mass.
An extraluminal mass is often accompanied by a large mass that replaces the GB fossa. The mass is often complex, with visible areas of necrosis; this is the most common manifestation of GB carcinoma, accounting for 40-65% of GB carcinomas (see the second image above). According to studies, polyps with a diameter of more than 1 cm are malignant in 23-88% of patients. [12]
A mass that arises from the GB may be difficult to differentiate from a mass that arises from the liver. The visualization of gallstones located centrally in a solid mass can help make the diagnosis. Adenomyomatosis can also cause focal GB wall thickening. This benign condition may mimic a GB tumor. [13] US may demonstrate focal or diffuse wall thickening, with echogenic foci in Rokitansky-Aschoff sinuses that are often seen as "comet-tail" reverberation artifacts.
Benign polypoid lesions are difficult to distinguish from polypoid carcinoma; the cauliflower-like appearance suggests malignancy. [14] Polyps smaller than 5 mm are unlikely to be malignant; polypoid lesions that are 5-10 mm in size should be followed up. In a patient with melanoma, metastases can cause multiple polypoid lesions. Tumefactive sludge can also mimic an intraluminal mass; usually, this is easy to differentiate by demonstrating the mobility of the sludge. Color Doppler US can also be used; the presence of flow within the lesion indicates that it is a solid mass rather than sludge.
High-resolution ultrasound (HRUS) has been shown to enable accurate T categorization of gallbladder carcinoma and to provide high-resolution images of gallbladder polyps. [7] HRUS may also have a role in stratifying the risk for malignancy. [15] Another study found that contrast-enhanced harmonic endoscopic ultrasound (CH-EUS) may improve the preoperative diagnostic accuracy and interobserver agreement in the differential diagnosis of gallbladder wall thickening. [16]
---
Did this answer your question?
Additional feedback? (Optional)
Thank you for your feedback!