Answer
Answer
For patients with IPF, HRCT scan findings may be used to predict outcomes and to guide the treatment, because the findings are well correlated with the histologic pattern of IPF (see the images below). The accuracy of the diagnosis of IPF is significantly increased with HRCT, as compared with chest radiography. When a trained observer performs HRCT, the accuracy of the diagnosis is reported to be about 90%. [9] ​ One third of all cases of IPF are missed on HRCT; a confident diagnosis of IPF is made in about two thirds of cases. [9] On HRCT, end-stage lung disease is characterized by honeycombing without ground-glass attenuation in typical distribution; with such findings on HRCT, the diagnosis may be made with confidence. This spares patients the risk of invasive diagnostic processes, such as a lung biopsy. In the active stage, scans demonstrate ground-glass attenuations. The active stage of the disease, which is characterized by active alveolitis, is potentially reversible and potentially amenable to treatment, unlike end-stage disease, which is irreversible. [10, 11, 12, 13, 14, 15, 16, 17, 18, 19, 20, 21]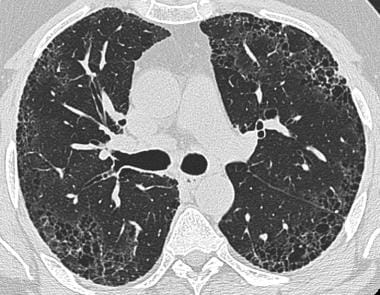 HRCT of advanced stage of pulmonary fibrosis demonstrating reticular opacities with honeycombing, with predominant subpleural distribution.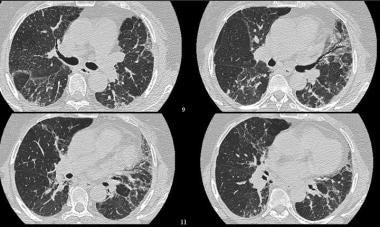 High-resolution CT (HRCT) shows increased pulmonary attenuation with distortion of the pulmonary architecture. Courtesy of Sat Sharma, MD, FRCPC, FACP, FCCP, DABSM.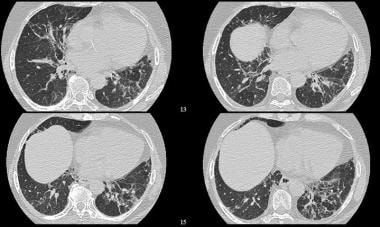 High-resolution CT (HRCT) shows distortion of the pulmonary architecture with thickening of pulmonary interstitium and some areas of ground-glass attenuation. No obvious honeycombing is present. Courtesy of Sat Sharma, MD, FRCPC, FACP, FCCP, DABSM.
On HRCT, IPF is commonly characterized by patchy and predominantly peripheral, subpleural, and bibasilar reticular opacities. The distribution is predominantly posterior. It is often associated with traction bronchiectasis and subpleural honeycombing.
Evidence has been found to suggest that alveolar collapse may precede lung fibrosis in IPF, potentially aiding in earlier diagnosis. [22, 23]
Ground-glass attenuations are relatively uncommon; they usually progress to the more common reticular attenuations and honeycombing. HRCT scans have been reported to show honeycombing in 90% of patients with IPF. In the absence of honeycombing, the extent of reticular and ground-glass densities can predict a diagnosis of IPF. The probability of IPF exceeds 80% in patients older than 60 years, with one third having reticular densities. [24]
In cases of suspected IPF in which lung HRCT shows more than 30% ground-glass attenuation, consideration should be given to other diagnoses; alternative diagnoses include desquamative interstitial pneumonitis, idiopathic bronchiolitis obliterans organizing pneumonia, respiratory bronchiolitis–associated interstitial lung disease, hypersensitivity pneumonitis, and nonspecific interstitial pneumonia.
Pulmonary artery size measured on HRCT has been studied as an outcome predictor in IPF. In a study of 98 IPF patients, pulmonary artery and ascending aorta diameters were measured from chest HRCT with pulmonary artery:ascending aorta diameter (PA:A) ratio calculations. Patients with a PA:A ratio >1 had higher risk of death or transplant compared with patients with a PA:A ratio ≤1 (P< 0.001). A PA:A ratio >1 was also an independent predictor of outcomes in unadjusted and adjusted outcomes analyses (hazard ratio 3.99, P< 0.001, and hazard ratio 3.35, P=0.002, respectively). [25]
---
Did this answer your question?
Additional feedback? (Optional)
Thank you for your feedback!