Answer
Answer
The radiographic pattern differs with the stage of the disease. Early in the disease, the most common radiographic changes are an interstitial shadowing of small (1 to 2 mm), irregular opacities, which are seen in about 75% of patients. Less common are small, round opacities, which are seen in 20% of patients. This finding is generally known as reticulonodular opacities. Septal lines are occasionally observed. The distribution is predominantly basal. (See the image below.)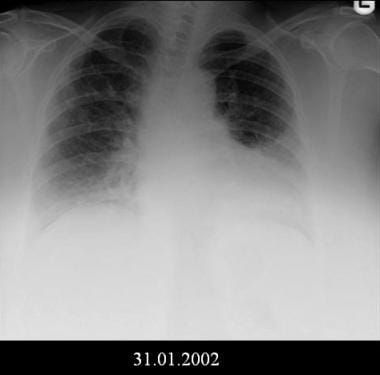 Bilateral lower lobe opacities and possible mild decrease in lung volumes. Courtesy of Sat Sharma, MD, FRCPC, FACP, FCCP, DABSM.
Peripheral accentuation is also a common feature, but it is more easily appreciated on CT scans than on plain chest radiographs.
The pattern is usually symmetrical. Another common pattern is hazy, ground-glass opacification, which is either diffuse or patchy. Volume loss and a raised diaphragm are seen in up to 60% of patients. This may be accompanied by basal discoid atelectasis.
Pleural disease is not typical of IPF. Its presence should raise the possibility of other conditions, such as asbestosis, rheumatoid pulmonary disease, or systemic lupus. Pneumothorax, pneumomediastinum, or both have been reported in a few patients; these conditions have been associated with bullae in the lung parenchyma.
With progression of alveolitis to fibrosis, the initial fine lines become coarse, and small (2 mm) cysts appear. These cysts coalesce and increase to 5-7 mm in diameter; they appear as ring opacities within the honeycomb lung. As fibrosis worsens, the honeycombing becomes coarser with larger honeycomb cysts, and further volume loss occurs. In advanced stages, there is radiographic evidence of pulmonary arterial hypertension.
---
Did this answer your question?
Additional feedback? (Optional)
Thank you for your feedback!