Answer
Answer
MRI provides superior delineation of the normal anatomy of the brachial plexus because of its multiplanar capabilities. The absence of streak artifact from bone and accurate identification of vessels are some of the advantages of MRI. It also has superior soft-tissue contrast, and it is more accurate than other methods in documenting or excluding brachial plexus involvement by the tumor. [19]
Compared with other techniques, MRI is more accurate in the evaluation of extension to the vertebral body, spinal canal, brachial plexus, and subclavian artery. This advantage is important, because vertebral body, spinal canal, and upper brachial plexus invasion are contraindications to surgical resection.
In a study of 31 patients with Pancoast tumors, MRI had a sensitivity of 88%, a specificity of 100%, and an overall accuracy of 94%. [10]
(See the images below.)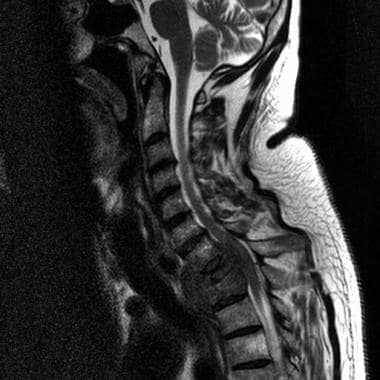 Pancoast tumor. Sagittal fast spin-echo T2-weighted MRI shows collapsed vertebrae and cord compression at C7, T1, and T2 caused by a soft tissue mass.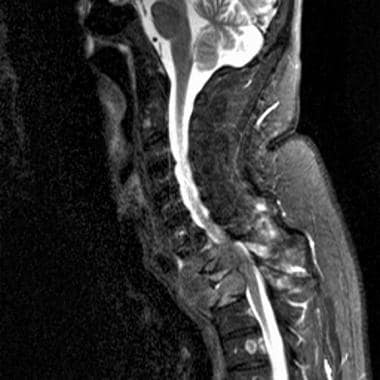 Pancoast tumor. Sagittal gradient-echo T2-weighted MRI demonstrates a soft tissue mass involving C7, T1, and T2, with collapse of the vertebrae and moderate cord compression.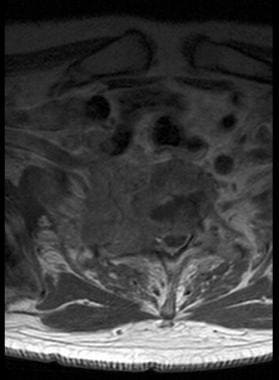 Pancoast tumor. Axial T1-weighted image shows cord compression caused by a large, enhancing mass. The right subclavian artery is not involved.
---
Did this answer your question?
Additional feedback? (Optional)
Thank you for your feedback!