Answer
Answer
CT scanning is best in demonstrating bony destruction (see the image below). MRI appears to be superior in demonstrating chest wall invasion. Also, the anatomy above the lung apex is better demonstrated on multiplanar MRI, because the nerves of the brachial plexus and blood vessels follow a horizontal and parallel course, meeting above the apex of the lung. In a study of 31 patients with superior pulmonary sulcus tumors, [10] CT scanning had a sensitivity of 60% and a specificity of 65%, with an overall accuracy of 63% in the evaluation of the extent of disease.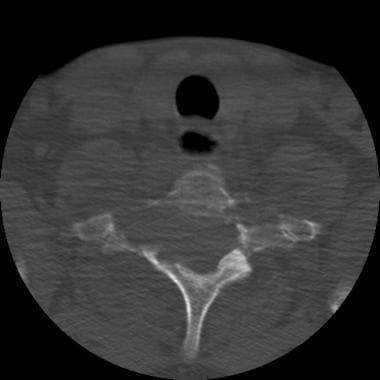 Pancoast tumor. Axial nonenhanced CT image of the upper dorsal spine demonstrates a soft tissue mass destroying the vertebra on the right and the right posterior elements, including the pedicle and part of the posterior spinous process.
---
Did this answer your question?
Additional feedback? (Optional)
Thank you for your feedback!